Last week we were very kindly invited once again by the Village Hotel to dine with them, this time in their Victory Pub and Kitchen. We'd been to the Village Hotel previously for a bloggers night out in the Buca di Beppo restaurant, so we were really excited about this opportunity. The evening was an Eat and Tweet night to celebrate the launch of their Great British Menu, which is about the only time you can get away with constantly being on your phone and tweeting mid meal without coming across rude!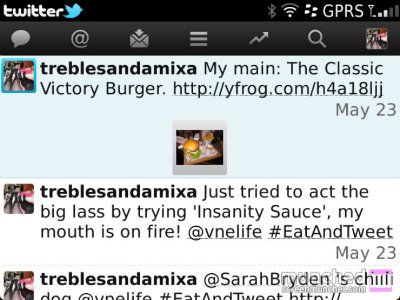 On arrival we were welcomed once again by Karen, Adele and the team; the kitchen staff had laid out a selection of starters and side dishes, once everyone had taken the obligatory blog and twitter photos we got stuck in! There is a great selection of dishes on the menu; from standard bar snacks- Victory nachos and Kung fu chicken wings, to the more unusual (and British) deep fried whitebait, potted beef with piccalilli and scotch egg with curried mayonnaise.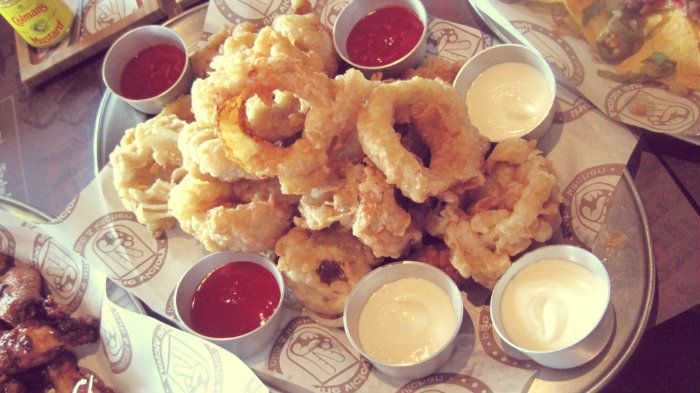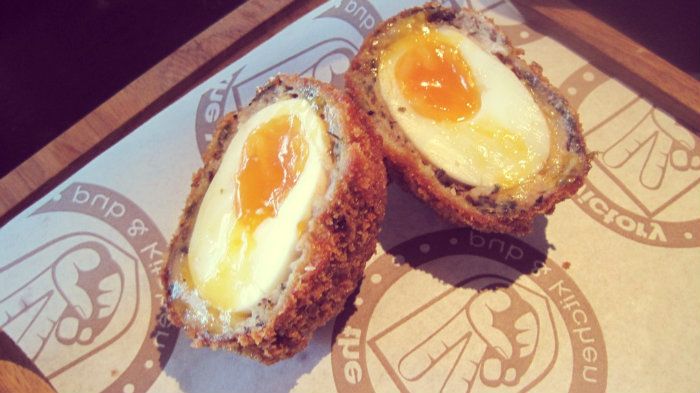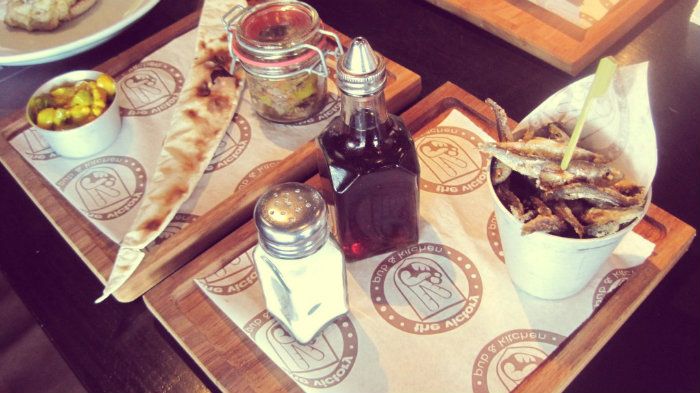 After tucking into the starters our orders were taken for the main course, while we waited we were offered the chance to try out the Curry Buffet which was available to the general public through in the rest of the bar. A cheeky plate of curry between courses? Why not! The Victory has various deals and themes running each night of the week and for £8.95 for a selection of three delicious curries and accompaniments, you really can't go wrong!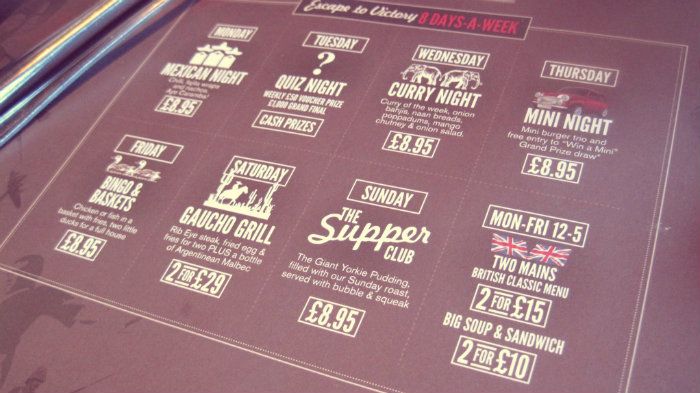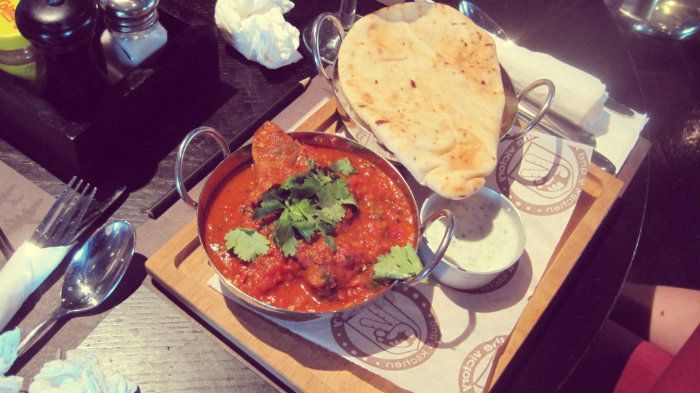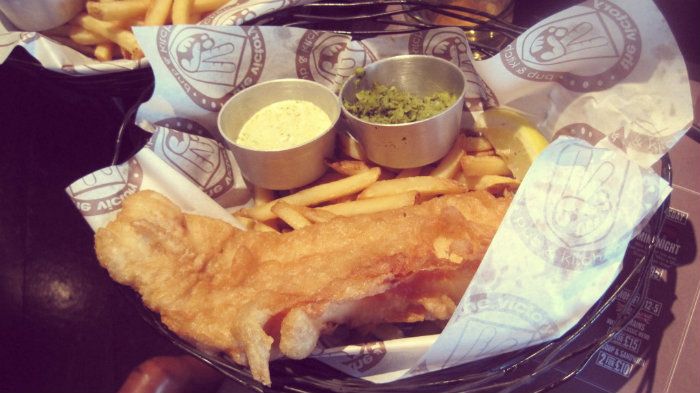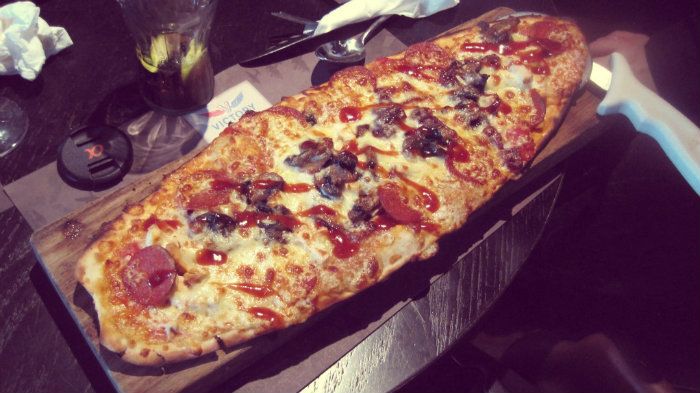 We both struggled to choose an option from the main course menu as everything sounded good; so decided in the end to both choose a different dish and go 'halfers', meaning there was no dreaded food envy! Bryden chose the Chilli Dog and I went for the Victory Burger. As delicious as the hot dog was, the burger really shone out (Bryden declaring it was one of the best burgers she'd ever had!)- the 100% beef burger was cooked to perfection, smothered in cured bacon and Swiss cheese and served in a delicious, soft brioche bun. Burger heaven!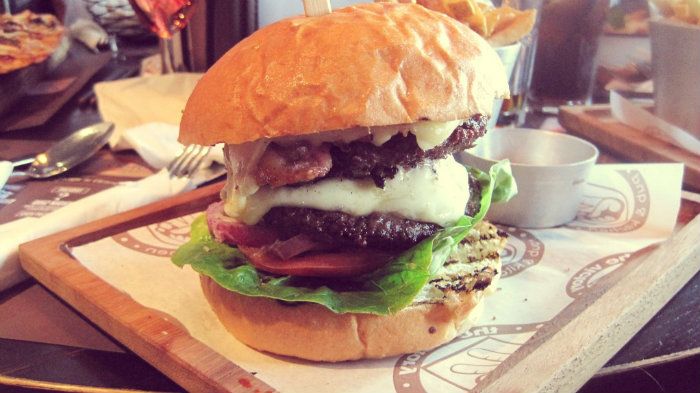 By the time the desserts came round, we were really starting to struggle! But ever the troopers, we opted again for two different desserts to share. I must admit that although the meal as a whole was extremely enjoyable, we did feel the desserts were the weakest part. Compared to the rest of the dishes we'd tasted, which were really fresh and tasted homemade, the desserts felt a bit 'bought in'. Having said this, it was maybe because I was having major food envy over a massive ice cream sundae a guy on our table had chosen!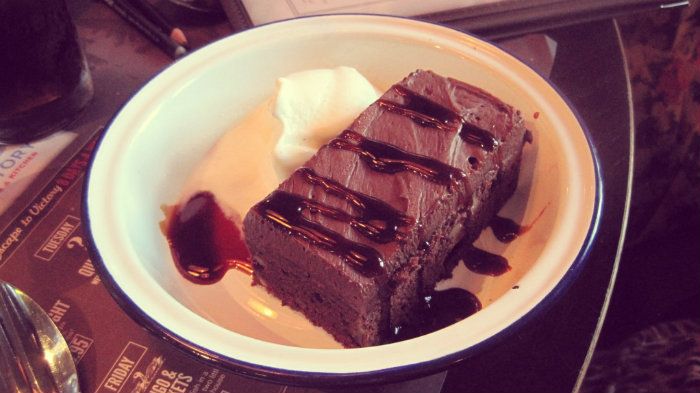 We'd definitely recommend The Victory and the Village Hotel to anyone wanting to stay in the area or is simply looking for somewhere with good food and an enjoyable atmosphere.
Claire & Bryden x
(Although this meal was given to us on a complimentary basis, all opinions are our own. We'd only ever be honest!)