I rarely buy a loaf of bread anymore as I prefer to make my own in my bread maker. I wanted to try something different as I had been making loafs of bread and cob loafs for the last couple of months and decided on trying my hand at some bagels. I love bagels but I hadn't tried making them before so I had a look at a handful of recipes I found online and cobbled my own recipe together using them as a starting point.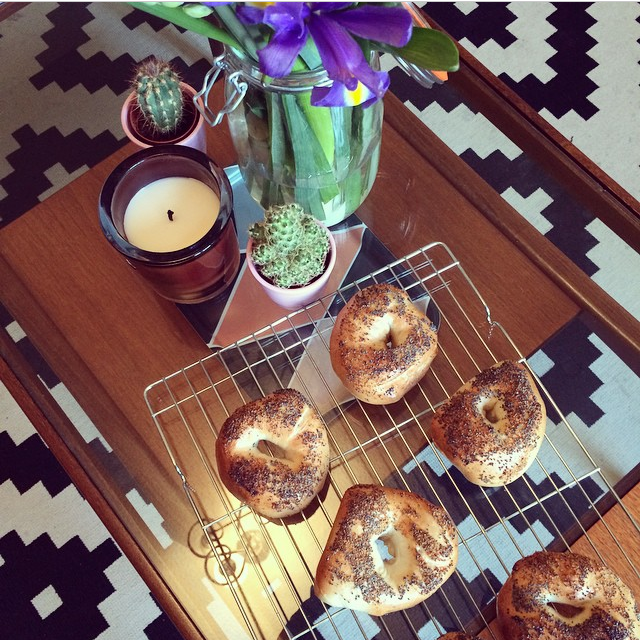 'Everything' Bagels
Makes 6 - 8
Ingredients
For the bagels:
7g easy bake yeast (I use Allinson)
450g strong bread flour
2 tbsp sugar (I used golden caster sugar)
2 tbsp salt
300ml warm water
For the bagel topping:
1 tbsp onion powder
1 tbsp garlic powder
1 tbsp poppy seeds
For the 'bagel bath':
A large deep frying pan
Enough boiling water to fill your pan
2 tbsp sugar
Method
I used my bread maker for this. Put the yeast, bread flour, sugar, salt and warm water into your bread maker and set it off on the dough setting. Alternatively, do it the old fashioned way by mixing everything together in a bowl, knead for 10 mins and set aside in a warm place for 1 hour for the dough to rise.
When the dough is ready pre-heat your oven to 220c (200c for a fan assisted oven).
When your dough has risen, knock out the air and divide into 6 or 8 equal parts depending on how big you want them. Make each piece into a flattish ball and poke a hole in the middle. At this point you might want to stretch out the hole a little more to allow space for the bagels to expand in the oven but this is your preference.
Now its time for the 'bagel bath'! I used a large deep frying pan so I was able to put half a batch of bagels in at a time and yet still leaving room to flip them. Fill your deep frying pan with boiling water and add 2 tbsp of sugar to the water. Slip the bagels into the water 3 or 4 at a time and boil for 1 - 2 minutes turning them in the water until they have puffed up slightly and a skin has formed. Put aside for the next step.
On a plate mix together the onion powder, garlic powder and poppy seeds. Take each bagel and dip the tops of them into the mixture to create your 'everything bagel' topping.
Bake on baking tray lined with parchment paper for a maximum of 25 minutes or until brown and crisp. The bases should sound hollow when tapped. Leave to cool on a cooling rack.
Enjoy!
Bryden