Steven and I have been to The Redhouse twice now. The first time we went we decided to go on a Wednesday where the meals are two for £10. This is a great deal and leaves some spare cash for a cheeky shared pudding afterwards.
Mince Pie, Mustard Mash, Meat Gravy and Mushy Peas.
Between us we have tried 4 of the pie varieties now. Steven has tried and chicken and gammon and the steak pies and his favourite of the two was the chicken. I have tried the mince and the sausage, onion and apple pies. I can't choose a favourite as I loved them both equally.
If you haven't been to Redhouse before the concept is quite easy to follow:
Choose a pie - Steak, Mince, Chicken, Sausage, Cheddar/Potato/Onion, Sweet Potato/Goats Cheese/Spicy Tomato or Spiced Mutton and Apricot.

Choose a mash - Creamy, Mustard or Cheddar.

Choose your peas - Mushy, Minted or Pease pudding.

Choose your gravy - Meat, Red Wine or Parsley Liquor.
With loads of combinations to be made you're bound to be able to find something you will love.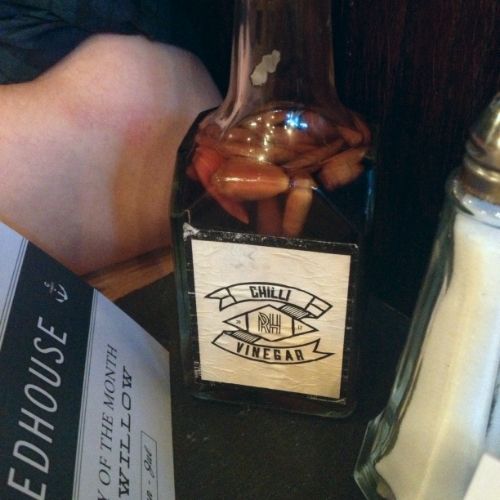 Chilli Vinegar.
We were excited to find chilli vinegar on the tables. This was new to me but I gathered this was to be used on their pies so I doused my pie in chilli vinegar. I am so glad I did. This stuff is amazing! Who would have thought pie + gravy + chilli vinegar would be so delicious! I found myself adding more and more. I am currently trying to replicate this at home by steeping some dried chilli's in some malt vinegar.
Apple Crumble with an Oaty Topping
The pudding we had was pretty good too. After ordering this though we noticed the couple after us were eating a lovely slice of cheesecake which wasn't on the menu so it might be a good idea to ask at the bar if there are any other puddings available. We noticed they sometimes have pudding pies from the Pet Lamb girls to offer but they didn't have any available when we visited.
Back - Steak Pie, Mustard Mash, Minted Peas and Meat Gravy.
Front - Sausage Pie, Mustard Mash, Pease Pudding and Meat Gravy.

Notice the Chilli Vinegar lurking at the side there...
If I had to give this place a score I would give them a 10/10. I can't fault the place! You can even 'double up' on your pie if you're particularly hungry!
After writing this I am absolutely dying for a pie now. I think it's time to try and convince Steven we should go next week...