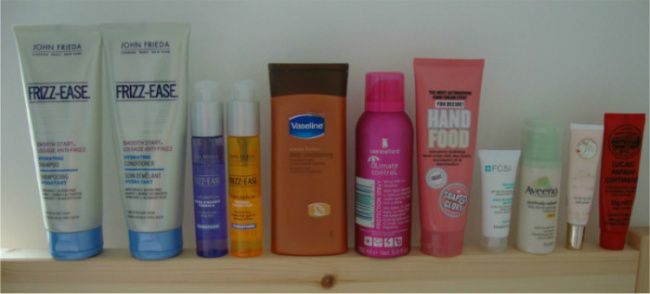 So it's that time of year again when the weather gets colder and your hair gets up in a frizz! Using my usual products just weren't cutting it and switching up was the only option. I've been using these for just over a month now and they're working quite nicely!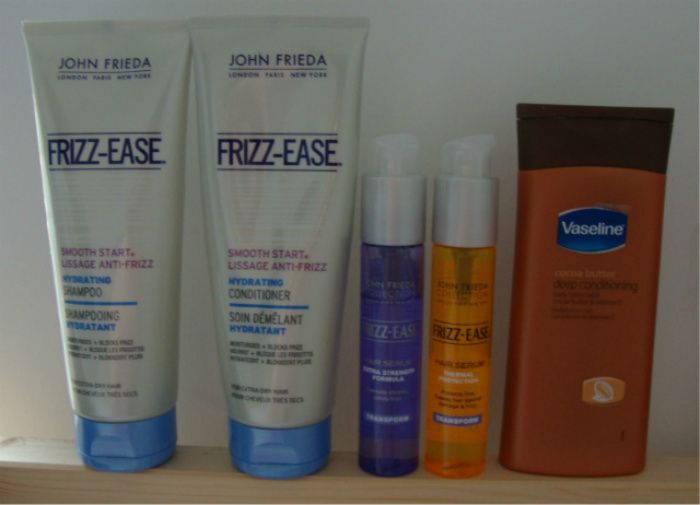 John Freida Frizz Ease Shampoo and Conditioner - Smooth Start
I was getting very frustrated at coming home every night from work and returning with a ball of frizz for hair knowing fine well that earlier in the morning my hair had been straightened within an inch of its life! The quest for a new shampoo and conditioner began - It actually didn't take too long as I remembered that Claire had used this a while back and said it made her hair too flat. So I thought I'd give this a go and it was perfect!
John Freida Frizz Ease Serums
The purple one is extra strength and the orange/yellow one is the heat defense one. The consistency of these products are very different. The extra strength one is much thicker than the heat defense. The heat defense one is more like runny honey in consistency.
I have two of these for two different weather/event situations. For example if the weather is particularly damp I will use the extra strength one. If the weather is ok I will just use the heat defense one. Easy!
Vaseline Deep Conditioning Cocoa Butter Lotion
I bought this on a whim because I needed a body lotion quick. Works well and smells wonderful. I can't find any faults in this product however, there is always a part of me that strives for more prettier packaging or unusual scents.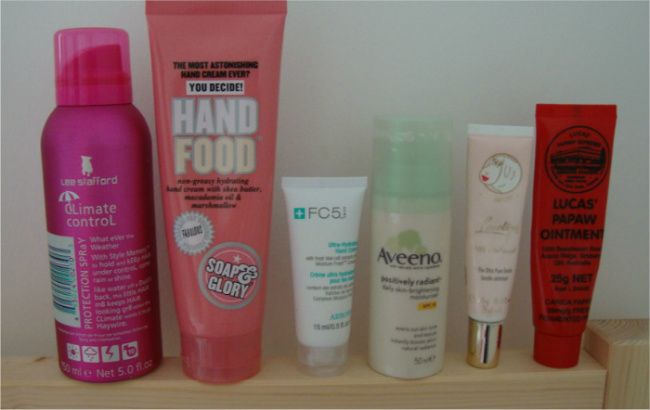 Climate Control Hairspray by Lee Stafford
This stuff is super crunchy on the hair BUT it does work. Sets the style and helps create a barrier against the elements.
Hand Creams - Soap and Glory Hand Food and FC5 Swiss Ultra Hydrating Hand Cream
Hand Creams are a must in the winter for me. I suffer from dry hands all year and they get a little worse in winter. I have used Hand Food for just over a year now and its lovely. Melts into the skin easily and doesn't leave that awful residue you can find with some other brands. It also smells out of this word! The little tube next to it is the FC5 cream. I only got this a couple of days ago in my
glossy box
and I am already in love. In my opinion this is much better than the Soap and Glory one as it leaves even less of a residue. It also smells wonderful. The smell reminds me of something but I can't think of what it is. Very fresh scent!
Aveeno Positively Radiant Moisturiser
I have very oily skin down my t-zone and I am constantly having to touch up using oil sheets during the day. Saying that though... I can also suffer from dehydrated skin. My solution was to try a light moisturiser under my usual oil control lotion (Murad Oil control) and it's working well soo far. The Aveeno cream has tiny TINY little sparkles in. They're actually soo tiny I can't see them under natural light and I only actually noticed them after catching a glimpse of my hand under a lamp after applying. This cream really brightens the skin without any visible sparkle.
Lip/Cuticles/Dry patches - Lanolips and Lucas' Paw Paw
I use both of these products to sort out dry lips, cuticles and any other dry patches. Both work well. Quite a difference in consistency within the product - Lanolips is a clear thick balm and the Lucas' Paw Paw is more of a 'spreadable' balm (more like Vaseline). I tend to use the Lucas' Paw Paw on my lips before bed as I can find the texture of the Lanolips quite irritating when I'm trying to sleep.
I've found that the Lanolips is more effective on cuticles then the Paw Paw.
So there we have it! Sorry we haven't posted for soo long. In all honestly we've both been very busy at work and Claire has recently started a college courses.
What are your winter saviours?
Bryden x