I've been subscribed to Glossy Box, Feel Unique and Boudoir Prive (now Jolie Box UK) for a while now. The first box I subscribed to was Glossy Box back in June. There's always mixed reviews of these boxes and I totally understand that - Not everyone has the same taste! I personally would love to see a lifestyle product in the boxes, perhaps maybe every now and again? I loved the tea which was included a couple of times in Boudoir Prive and I would love to see products such as candles or room sprays to be included aswell. I see these as a luxury product I only buy every once in a while so I wouldn't mind testing a few out before buying something expensive.
I was excited to see that Boudoir Prive was becoming Jolie Box UK as this is my ultimate favourite of the boxes I have subscribed to and I can see this as a great opportunity for expansion for them. I've always felt that Boudoir Prive in the past has provided brands which aren't necessarily well known and I like this! It gives me a better view on what products are out there besides the ones that are commonly raved upon in the blogging world. I hope this carries on in Jolie Box UK.
Low and behold - JOLIE BOX UK!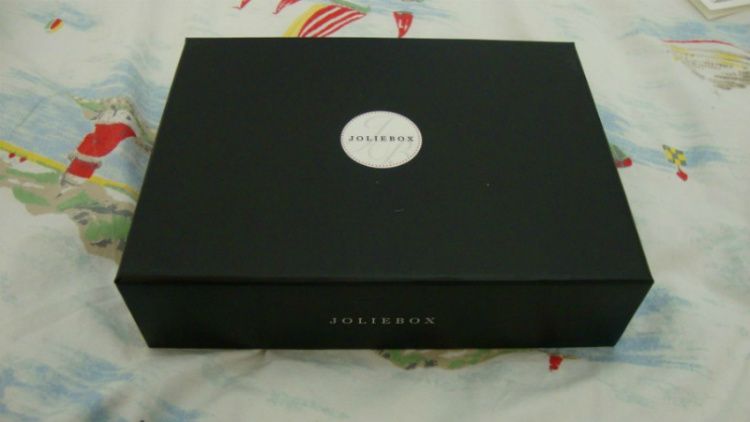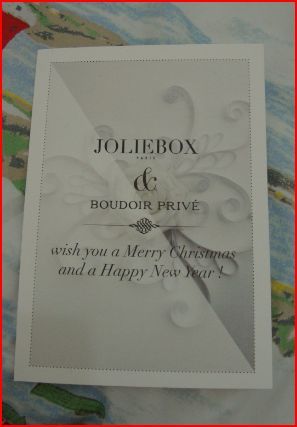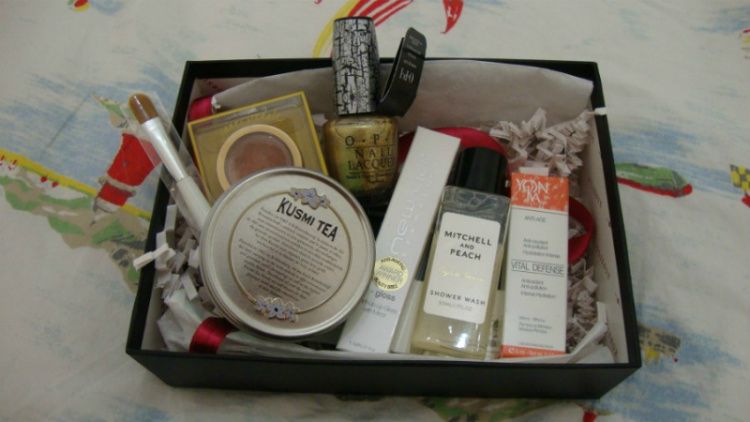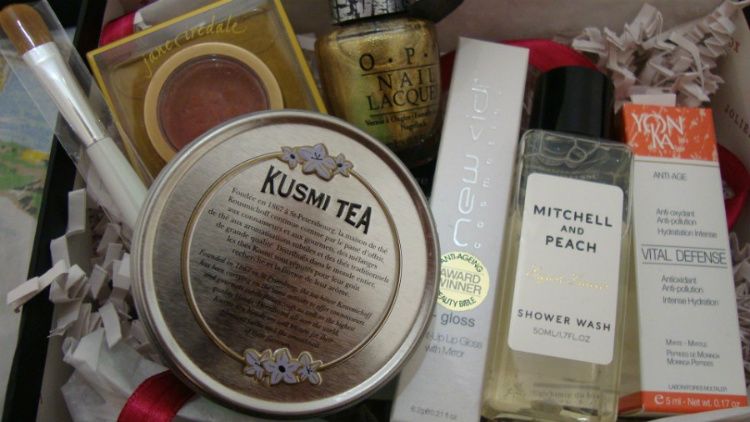 The Low down:
OPI Gold Shatter Nail Lacquer - VERY exciting. I love shatter nail varnishes and I haven't got a gold one.
Mitchell and Peach Shower Wash - Smells expensive!
New CID Cosmetics i-gloss in Babydoll (Mid toned pink) - Lovely! Not sure on the light as I nearly blinded myself with it on first application. Non-sticky.
Jane Iredale 24-Karat Gold Dust in Rose Gold - Described as a multi-use shimmer powder for cheeks, lips, body, eyes and hair. Not sure about using this in my hair but I think I'll really enjoy using this on my eyes and cheeks.
Yon-Ka Vital Defense - An anti-aging cream. Many people moan on about getting anti-aging products in their boxes due to their age. I don't mind. I believe in prevention and many anti-aging products contain exfoliants which are great for a mild exfoliation without scrubbing away at youself.
Very excited to see TWO bonus items this month!
Kusmi Detox Tea - This is my favourite product from the box. I love tea! I love the packaging and I will definitely be taking advantage of their offer codes included in the box. I'm nursing a cup of this now and its very refreshing.
Jolie Box Concealer Brush - I've never used a concealer brush before and this gives me the perfect opportunity to give it a go. Seems very soft but yet still stiff enough to apply product evenly.
I've seen a few different variants of products on some other blogs with the colours of some products.
What do you like to see in you beauty boxes? Whats your favourite?
Bryden x