We totally forgot all about our favourites post's lately but here are a few of Bryden's favourites from the month of April:
Bryden's Favourites...
Products
1. Dr Jart Water Sure Gel. 2. Moschino Funny!
3. Dove Nourishing Oil Care Leave-in Spray. 4. Origins Vitazing.
Dr Jart Water Sure Gel
I had originally went into boots to pick up a tube of the Indeed Hydraluron after hearing some great things about hyaluronic acid but I spotted this on offer for less. Noticing the original price was higher then the Hydraluron I decided to pick this up to test while it was cheaper. I haven't tried the Hydraluron so I can't make a comparison but I have seen an improvement in my skin. My skin seems more 'moist' and smooth. I've noticed my Laura Mercier Silk Creme foundation goes on a lot nicer once I have used this. It's a gel so it's great for my oilier skin.
Moschino Funny!
Lovely fresh scent that reminds me of something from my youth. I think I'll be wearing this every day once the summer properly kicks in (if it ever does).
Dove Nourishing Oil Care Leave-in Spray
I saw this on Kate's youtube videos and blog posts. I always trust Kate's recommendations. Everything I've bought because of her posts or videos turns out to be amazing and this is no exception. I've been using this on wet and dry hair. It smells gorgeous! It's really good for getting out the tats and leaves hair feeling smooth.
Origins Vitazing
Another Kate recommendation here. I've had this for a while but I've recently dug it back out to use underneath my Laura Mercier Silk Creme foundation. I really like how it provides a little bit of colour before I put my foundation on and gives a nice glow without the sparkle. I don't find that it makes my skin any oilier either which is great.
Eats
Mmm Hummus!
I haven't ate out much this month but I really enjoyed having a go at making my own hummus. I looked up a few recipes before making it and ended up doctoring it to my own taste. I've made it 3 times now and I don't think I'll bother buying hummus from the supermarket ever again. Homemade is soo much nicer!
Pizza!!!
I tried my hand at homemade pizza this month with very tasty results. The one of the left is just your bog standard margarita but with some caramalised onions thrown into the mix and the one on the right is potato, kale, caramalised onions with rosemary. They were awesome!
Other stuff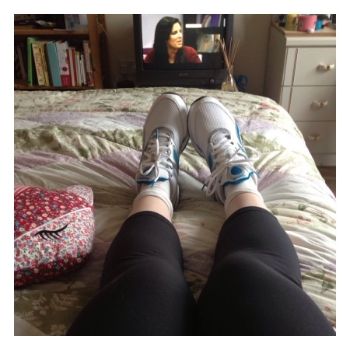 Getting active! I have to lose a lot of weight to fit into a bridesmaid dress for my friend's wedding. We can't get another dress so this absolutely has to happen. I've been doing the 30 day shred and I'm really enjoying it. The workout is around 25 mins long and the time literally flies as you get soo into it. I've got a lot of weight to shift so wish me luck!!
Next month I'm looking forward to...
Lady date with Claire at Las Iguanas.

Hotel Du Vin Sunday Brunch with Steven for our 2 year anniversary.

I'm wanting to save some money so I'm going to try and have a mini spending ban. I'm going away to Scotland in July for my cousins wedding (exciting!!!!) so I want to save some money for that.