Hello!
Hope everyone is well. Lot's of moving about for Trebles and a Mixer at the moment so it will be Bryden holding the fort for a while until Claire has moved into her new house.
On to the faves:
Bryden's favourites
Products
1. Simple Oil Balancing Moisturiser. 2. L'oreal Glam Bronze Sun Radiance Trio.
3. Maybelline Rocket Volume Mascara. 4. Biorganics Hair Oil.
Simple Oil Balancing Moisturiser
An oldie but a goodie. I had forgotten I had this and decided to give it another go just to use it up and I've fallen back in love with it. Its inexpensive and works a treat. In my opinion it's on par with La Roche Posay's Effaclar Mat minus the hefty price tag.
L'oreal Glam Bronze Sun Radiance Trio
This is also an older product I've recently started using this again. The product itself is made up of 3 sections - a rosy pink, a gold and a pearly light gold shade. You can swirl them together and use them all at once (this is what I do) or use them separately. It's more like a highlighting/bronzing blush and gives a nice sheen to the skin without any chunks of glitter.
Maybelline Rocket Volume Mascara
This reminds me of the Max Factor False Lash effect (I think the Maybelline one might be cheaper?). It's great! No clumps and gives great volume. I'll be buying this again.
Biorganics Hair Oil
This was from one of my beauty boxes. It's quite a light oil in comparison to Macadamia Oil or Chi Silk Infusion. As with most oils this seems to speed up the drying time when I'm blow drying my hair and leaves a nice shine.
Eats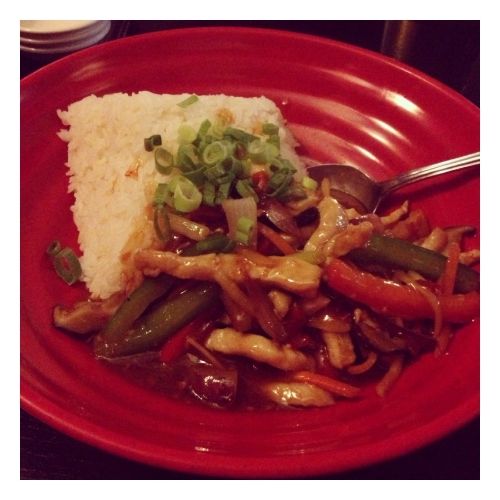 Nudo Noodle House, Newcastle
Newcastles hidden gem! Situated near the Gate in the Centre of town, this restaurant is simply fantastic. The prices are great, service is fantastic and the food is out of this world.
Surimi rolls, Costco
I picked these up on a trip to Costco with my parents one day. They're crab sticks filled with garlic and herb cream cheese. I need to buy more ASAP.
BBQ's!
Now the weather has heated up I'm really enjoying having BBQ's. This picture is a snap from the one Steven and I had in our tiny back yard.
Other stuff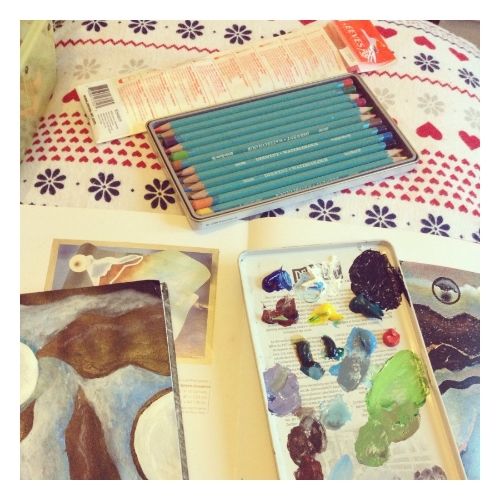 Getting creative
I used to be into Art in a big way when I was younger but this faded away once I started working and went to Uni. I just forgot all about it completely. I've dug my old supplies out and started to paint/draw again. I'm not very good but I'm really enjoying having a hobby again. It's so easy to get yourself in a rut and this was my means of escape.
Next month I'm looking forward to...
My cousins wedding - Steven and I are going to Scotland for my cousins wedding and we're really excited for it. We'll be staying in a cottage in the countryside for 4 days with my parents and we've also arranged to go out to a very special fish restaurant.
Spending time with friends
Learning to knit - My friend from work has promised to teach me how to knit! Wish me luck - My first attempt was a disaster.