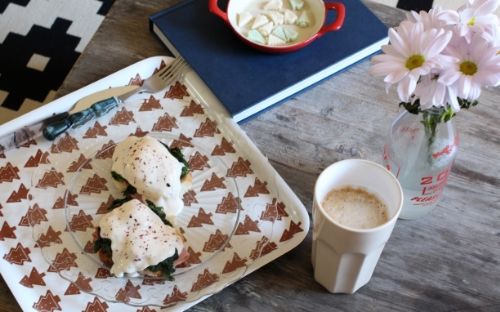 I absolutely adore Rachel Khoo. I love the simplicity of her recipes and that she uses ingredients that aren't hard to find or expensive. I also admire the fact she was able to cook/film/write/test recipes in her tiny little kitchen in Paris. As someone who was cursed with a tiny kitchen for 18 months I know of the daily struggle of cooking/keeping things tidy/finding a place to store something or even trying to find the space to put plates on the bench! In my shoe box kitchen we didn't even have a cupboard big enough to store dinner plates.
I came across Rachel's column in the Standard. A brilliant way to test a few recipes before investing in her books. The first recipe I tested was her Cheats Eggs Benedict recipe (I'm convinced it's an eggs florentine though as it has spinach and not ham or bacon but I will let her off). This is a lot quicker and simpler than the traditional recipe of making a hollandaise. It's also a lot healthier and very slimming world friendly! From what I gather Rachel also painted the picture which can be seen on the recipe page - A very clever woman indeed. I have made this every Saturday for a month now and I'm not getting sick of it. I sometimes add a couple of slices of ham or bacon into the mix too.
1 English muffin (I used some of my dads homemade bread this time. You could also use a slice of wholemeal toast cut in half for your muffins too - This is my favourite way!)
½-1 tsp harissa paste (depending
Place the frozen spinach in a heatproof bowl and pour over enough boiling water to cover the spinach entirely. Set aside for 5-10 minutes to defrost.
Cut the muffin in half and toast under the grill or in a toaster.
In the meantime, bring a medium saucepan of salted water to a gentle simmer and maintain on a medium heat. Crack one of the eggs into a wine glass
(I find this makes it easier to guide it into the water). Using a wooden spoon, stir the water to create a little whirlpool, then pour the first egg into the centre. Repeat with the second and leave to cook for 2-3 minutes. Remove the eggs with a slotted spoon and drain on kitchen roll or a clean tea towel. (Cut off any stray bits of white to tidy them up.) Season.
Drain the spinach into a colander and squeeze out the excess water. Season with salt and pepper and a sprinkle of sumac. Mix the harissa with the yoghurt. Spread each muffin half with butter and divide the spinach between them followed by the eggs, then dollop on the harissa yoghurt. Serve immediately, preferably with a Bloody Mary.
(taken directly from
http://www.standard.co.uk/lifestyle/esmagazine/rachel-khoo-cheats-eggs-benedict-
9157508.html)
Crossed posted FROM Bryden's personal blog
http://the-northern-life.blogspot.co.uk