I was excited to see a e-mail drop into our Inbox last week inviting us to take a look at the new Sizzling Pubs menu. I had never been to a Sizzling Pub before so I was interested to check it out.
Our nearest pub was the Powder Monkey in Wallsend. Claire wasn't available to come along so I went along myself and brought a couple of friends with me. Sizzling Pubs are a chain dedicated to cheap eats with maximum flavour. The menu is huge and there is something for everyone on there. The kids menu are looked great offering loads of options for kids to pick from. The menu gives them the opportunity to build their own meal - great to stop those tantrums when an unwanted vegetable appears on the plate!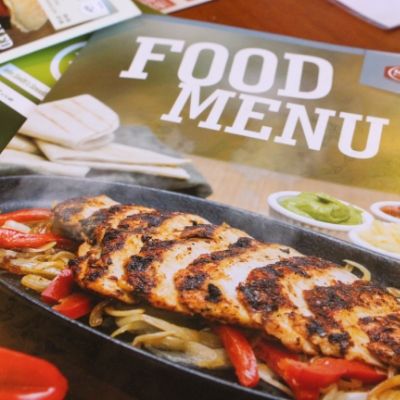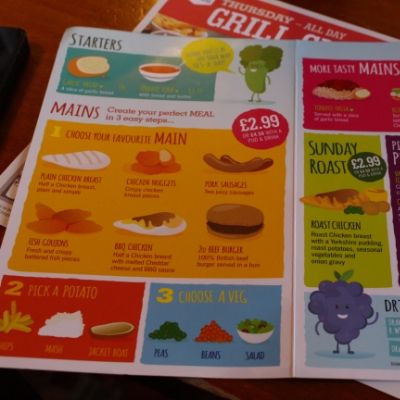 We were greeted by Neil who was absolutely wonderful and encouraged us to try and squeeze in a starter, main and dessert so we could try a bit of everything - I thought to myself ''Challenge accepted!''
We decided on a sharing starter and some pulled pork nachos for our starter so we could have a pick at everything. The portions were VERY generous.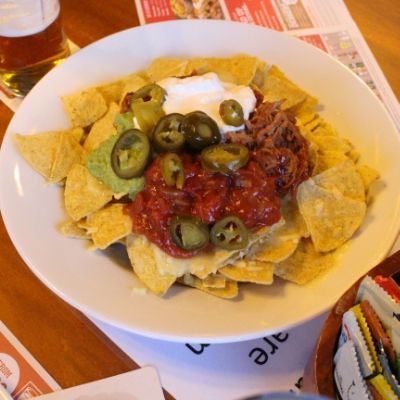 Pulled Pork Nachos
Sharing Platter
For mains I opted for a 'build your own burger' and ordered a beef burger with pulled pork, monteray jack cheese and onion rings which of course came with chips. My friends ordered the mighty mexican fajitas (a combination of chicken, steak, peppers and onions), surf and turf (steak and scampi) and a 10oz rib-eye steak. My friends mains all came on the chains signature sizzling plates.
10oz Rib Eye
Beef Burger with Cheese, Pulled Pork and Onion Rings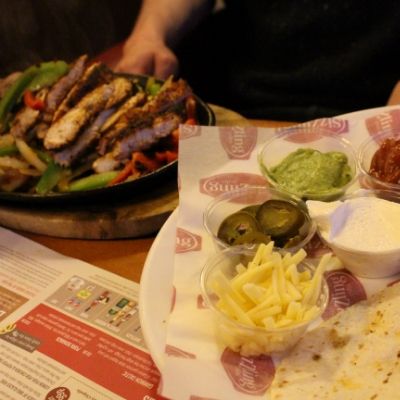 Mighty Mexican Fajitas
Surf and Turf
Already stuffed to bursting we soldiered on and ordered desserts. I ordered the cherry and rhubarb steamed sponge pudding with custard (amazing!) and my friends ordered a cookies and cream sundae, toffee honeycomb sundae and a profiterole sundae.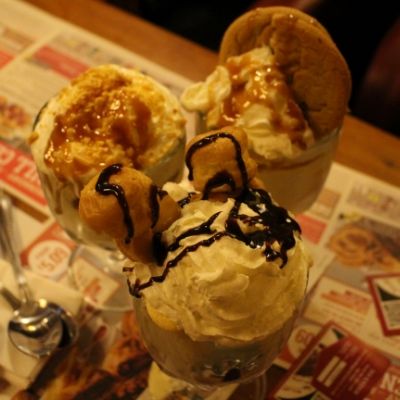 The Ice Cream Sundaes
Cherry and Rhubarb Sponge Pudding
We spent a good 3 hours in the pub taking our time which is great for me because I take ages to eat. We didn't feel pushed to leave and the pub had a really relaxed atmosphere. Some people were dining and some people had just came in for a quick drink at the bar. The chain also has some great drinks offers on the go as well.
So would I go again? The answer is yes. The food wasn't and isn't meant to be fine dining but there's something about these types of meals that I love. The food is good, cheap and hits the spot.
Disclaimer - We were contacted by the PR team for Sizzling Pubs to consider a review of their chain and sample some items off their new menu. My friends and I received a complimentary meal. No direct payment was received for this post. All thoughts are my own.