If you've ever read any of our food posts, you'll know that us Trebles & a Mixer girls love a good burger; which lead to me to wondering- "What's the
best
burger in Newcastle?". I had this thought while having some lunch at The Garden Kitchen in Eldon Gardens, having scanned the menu, there was only one obvious option for me- the cheeseburger.
Whilst chomping away on The Garden Kitchen's offering, I devised a scoring system, to aid me in my quest. Firstly, and most importantly, the burger itself needs to be assessed. The quality of the meat, flavour and seasoning are all to be considered. How the burger is cooked is another important factor, I prefer my burgers to be served pink; so to me, if a choice is offered, I feel its a sign of a good burger.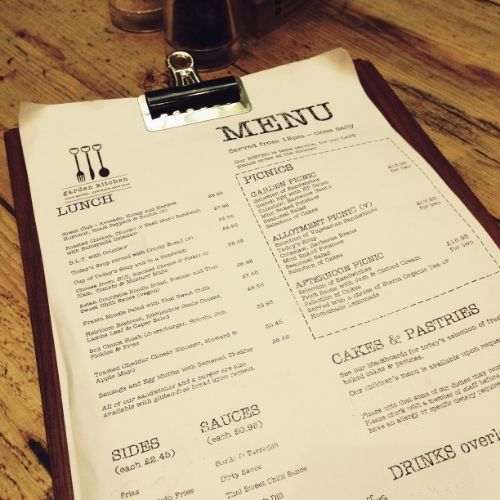 The Garden Kitchen's cheese burger comes with an 8oz beef patty, I wasn't asked how I would like it cooked, but I overheard another customer being told the burgers were served medium, so it would be "pink inside, but not bloody". However, when mine arrived, it was definitely cooked through, fortunately it was still pretty juicy. The meat itself was of a decent quality, but could have done with slightly more seasoning. Luckily, the chuck steak used in the burger had a decent flavour to it.

The next aspect to consider is- the bun. For me, there's not two words I love more in the world than 'brioche bun'. Personally, there's little else I really want a burger to be served in. The Garden Kitchen's burger was served in one of my beloved brioche buns. Sadly, it was a little dry, but otherwise was a lovely sweet tasting brioche topped with sesame seeds.




I find that the accompaniments to a burger can either make or break it, you can have the best quality beef burger in the world, but if it's smothered in a substandard cheese, the whole thing can be ruined. The Garden Kitchen's patty came with melted cheddar, a slice of beef tomato and crisp romaine lettuce. On the side was a small pot of pickles, which was a nice touch in contrast to the usual two tiny slivers of gherkin which you see in so many other places. For an extra 95p I added a pot of 'dirty sauce' to my meal, which was a tangy, spicy mayo and helped give the burger the extra flavour and seasoning it needed.




This particular burger came with fries on the side, which curiously came in a paper bag, which I didn't really understand and reminded me of how the fries in my local chicken shop are served. After dumping my fries out onto my plate, I was slightly disappointed to see the bog standard, skinny, McDonald's style fries that so many other places serve. They were hot, crispy and salty though and with the help of the 'dirty sauce', I munched my way through them.

Overall, as burgers go, the first burger in my quest was a pretty good offering, with only a few areas letting it down. The Garden Kitchen charge £9.95 for their cheese burger, which I think is an alright price for what you get. The place itself, despite being in the centre of a shopping mall is quite quiet and relaxing, and I found the staff were attentive and helpful.

I'm going to give The Garden Kitchen burger a 6.5 out of 10, getting my top Geordie burger mission off to a pretty good start. Any suggestions of places to try in Newcastle or the North East are gladly welcomed. I have a few restaurants on my list already, but I am always looking for more to try, no matter how big or small.

So- What's the best burger in Newcastle? I'm pretty sure I'm going to have fun trying to find out.

Claire
x
Disclaimer.
I am obviously not a food critic. I'm just your average Geordie lass, who loves burgers. The burger I ate at The Garden Kitchen was bought with my own hard earned pennies and all opinions are my own. Cheers.