Since my first Geordie Burger Quest, I've visited quite a few burger toting establishments and I'm now running up a backlog of burger related blog posts. My next visit was a highly anticipated one; The Fat Hippo Underground was probably one of the most recommended to me, via Twitter. Was I in for a treat or a complete anti-climax?
I'd heard the Fat Hippo's latest venture, a city centre restaurant, tends to get extremely busy, so I booked a table for a Tuesday evening. The restaurant itself is situated next to The Theatre Royal and is entered by stairs taking you into the subterranean burger restaurant.
To be honest, FHU annoyed me before I even got the chance to eat anything. I'd booked a table, four days previous. Despite this, I was told abruptly by our server, as soon as we were seated, that we could only have the table for an hour. Now, if we'd walked in off the street, that would be fair enough, but I'd booked in advance and wasn't told any of this at the time of booking.
Despite having a time limit for our meal, we choose some starters to begin. I opted for the deep fried pickles, which were encased in a crispy batter and came with a garlic mayo. They were nice. 'Nice' is such a crap description, but that's how they were. They didn't blow me away, but then I've had Meat Liquor's version and there's no competition really. The pickles were also really greasy and due to our server not supplying us with any cutlery or napkins, I ended up wiping my hands on my jeans. Lush.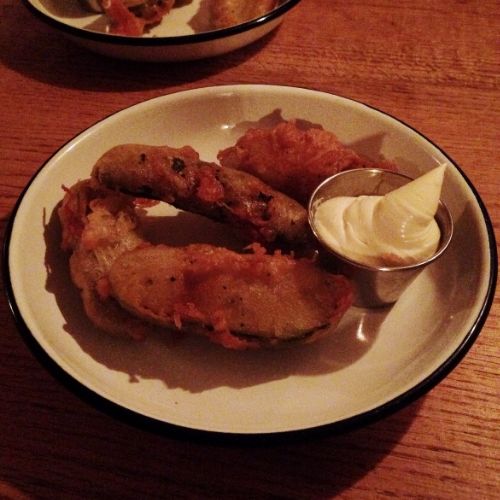 I'd tried to extract some information from our server about the burgers whilst ordering, but any questions were answered with singular words and a 'can't be arsed' gaze. It didn't seem that I was going to get any help with ordering, so I figured that the 'Fat Hippo Burger' would be a good choice. The burger features a double 4oz patty topped with smoky bacon, chorizo, cheese, onion rings and 'Fat Hippo sauce'.
Our burgers arrived quickly and were piled high onto serving trays, accompanied by hand cut chips, lettuce, tomato and pickles. I'd also added some 'Problem Child' hot sauce to my order, to spice things up. So the big question is- Did the Fat Hippo Underground live up for my high expectations? Sadly, in a word- no.
The burger looked impressive, towering on the tray, stacked high with toppings. The chorizo was tasty, however the cheese was a tad on the rubbery side and the bacon was too fatty. I had to remove the onion rings from the burger, they were far too greasy and I couldn't fit the burger into my mouth with them in (I've got a big mouth, but it's not that big). The combination of the burger and the grease from the toppings was too much for the bun (which was a decent effort, but too soft) and I ended up with most of the contents slopping back onto the tray.
The burger patty itself was a pretty decent bit of beef, which was nicely seasoned. Though despite being asked my cooking preference, my burger wasn't served pink, not even close. This was probably down to the fact it would be pretty difficult to cook a burger that thin, medium. One single, thicker burger, instead of two might have been a better option. Overall the burger had a lot going on, maybe too much for me to handle, but elements of it were really tasty.
The burger was accompanied by hand cut chips, which I left pretty much untouched, I ate two of them. They were horrible, big chunks of watery, tasteless potato. They were too chunky; there was no crisp to the outside and no fluffiness on the inside. They were just really, really poor. I probably should have mentioned my disappointment to the servers, who did four half arsed check backs during our main course, but by that point I think I'd just given up.
Fat Hippo Underground has all of the elements, to become my favourite burger joint, but it just didn't happen. Having said that, I would visit again,for some reason I feel like they deserve a second shot. I'll also be paying the Jesmond branch a visit on my Geordie Burger Quest, to see if the original is better. Unfortunately Fat Hippo Underground wasn't what I'd hoped for, so I'm going to give them a 6.5/10 and cross my fingers for better things next time round.
Claire.