The situation is that at the moment I'm trying to downsize my make-up collection. This means trying to use up what I have, making space and making careful decisions when purchasing new items. I have a lot of eyeshadow's from different brands including a handful of MAC items. I was contemplating in buying a MAC eyeshadow palette so I could make more space but I knew fine well if I had done this I would end up buying more MAC eyeshadow's (probably in similar colours that I already own from different brands) to fill the darn thing up! But I wanted something I could use to store my eyeshadow's in one place so that I could use my MAC 4 pan palette for traveling (interchanging the eyeshadow's when I needed to). I was having a look at the Z palettes as a solution as they have no pan spaces and can hold any shape/brand of eyeshadow once they have been depotted and fixed with a magnet. I still wasn't too hot on the idea of shelling out cash for this so I carried on looking for a cheaper option. After a couple of weeks of researching into different palettes I could use I realised that I had the perfect solution staring me right in the face at home.
Behold! My metal cigarette tin palette: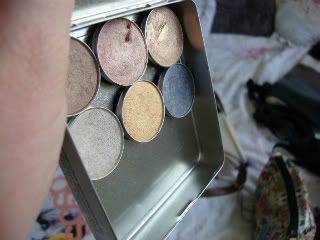 Obviously, I'm not asking you all to take up smoking and run out to buy some cigarettes in a 'posh-ish' tin.
But maybe an old pencil tin could work if you have one lying around. I'm just using what I had to hand and it beats just throwing it in the bin. I actually have two more tins as I picked a couple off the floor (trampy?) at last years Leeds festival in order for my (very sad) father to store his metal detecting finds in. Looks like he won't be getting them now! As the tin was magnetic all I had to do was depot my eyeshadow's and place some magnetic strip on the bottom (which I bought off Ebay for incredibly cheap).
It's not the most prettiest of tins and I'm thinking about covering it in some decorative sticky back plastic.
Again, I am definitely NOT asking you all to run out and start smoking to pick up a tin.
Merely suggesting that if you're unable to buy a MAC palette or are reluctant to buy one then have a look around your home and you may find something which could be used in the same way I have used my tin.
Bryden x