As you may have read in the first part of my
Skin Care Diary
, I went to see the dermatologist just over a week ago about starting the isotretioin treatment Roaccutane for my long standing acne problem. Luckily all my tests came back fine (including the pregnancy one!) and I was given my first months prescription to start very soon. I'm really excited to start the treatment, but not for the side effects! I spent an absolute fortune in Boots buying skin care items in preparation. The skin care lady thought I was insane when I told her I was planning on having extremely dry skin in the future!
In the mean time I thought I'd share with you a few techniques and recommendations for covering acne with make up. I stumbled across this video my the amazing Lisa Eldridge on You Tube in which she uses a very similar technique to the one I use for covering up my acne. This way you get to look at a pretty model instead of my ugly mug.
I always start off by preparing my skin before foundation as my skin currently tends to be a bit greasy and shiny during the day. I love Good Things Miracle Mattifier to moisturise with, followed by Murad Oil-Control Mattifier over my T-Zone for extra help and then finally a thin layer of Clarins Beauty Flash Balm all over my face.
Like Lisa I use a lighter foundation over the majority of my face, Bourjois Healthy Mix foundation (shade- 51) in my case. I love this foundation. I'd used MAC for years but had found recently my usual shade was looking a bit orangey and I ended picking up this Bourjois foundation on special in Boots. It's light, easy to blend and even smells nice. I then use the same Vichy/Dermablend corrective foundation Lisa uses in the video (shade- 15 Opal) over the worse areas on my face. For me this tends to be around my chin and jaw line, I also apply some of this over my permanently red nose! For any areas still looking a bit red and for my under eye shadows I use Collection 2000 Lasting Perfection Concealer (shade- 1 Fair), which is another amazing cheap buy. I then usually set my make up with MAC Mineralize Skinfinish Natural (Shade- Light), but I'm really interested in trying the setting powder Lisa talks about in the video.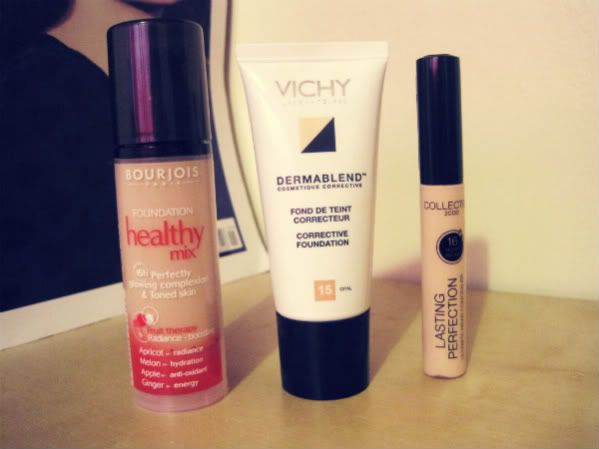 Does anyone else suffering from acne have any tips or product recommendations to help cover up bad skin?
Claire
x