Just this weekend gone Steven and I decided brace ourselves and venture out in what felt like gale force winds to have a little look around our local charity shops and to have a wander down to the Ouseburn in Newcastle. I had spotted a coat in the window of one of the charity shops when I was travelling past on the bus so I was hoping for it to be still there - It was! YES! I also managed to find a few more other gems along the way too.
Shoes x2 £2.99 each, Ben Sherman Shirt for Steven £4, M&S Jumper for Steven £2.50, St Michael orange t-shirt £2.50, A Littlewoods white jumper £3.00, A collection of free magazines I picked up at the local pub on the way home. I decided not to take individual photos of the clothes in this picture because they're all pretty plain and boring!
Lampert of London Camel Wool Coat £7.95
Black Bag £5.00, Dominoes £1.50, Small dish 20p
Brown Loafers £2.99
Navy St Michael Shoes £2.99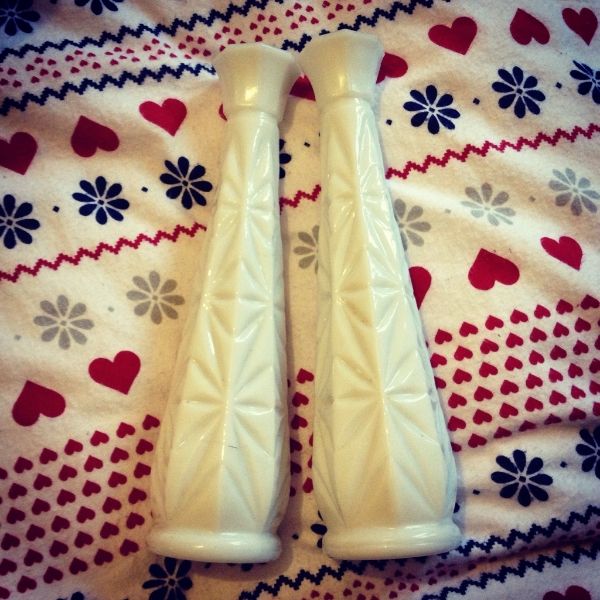 Milk Glass Vases £1.00 For The Pair
After looking around the shops (and spending a small fortune) we wandered down the Ouseburn in Newcastle. This is an area just on the outskirts of Newcastle and holds a nice little collection of bars, practice rooms, the Seven Stories centre (The National Centre for children's books) and is home to the Ouseburn Coffee Company.
We opted for dinner at the Cluny - a music venue, restaurant and bar. The Cluny offers a vast selection of beers, ales and spirits but we just settled for a couple of glasses of diet coke to wash own dinner down with. I chose one of their 'world famous burgers' with cheese and mushrooms. I'm not entirely sure if their burgers are actually world famous but after tasting one I definitely think they should be!! Soo juicy and 'fresh'? tasting... if a burger could ever be described as 'fresh'...
We also got a lime salsa dip and a garlic mayonnaise to dip our chips into. Steven chose a steak ciabatta and chips.
With chips like my Nana used to make!
After dinner we decided to take a very slow walk home (too full off dinner!) via the Free Trade pub which is also situated in the Ouseburn and boasts beautiful views of the River Tyne. Unfortunately, It was too windy for us to sit outside to enjoy these. I picked up a handful of the free magazines they had to offer (Turps, Narc and the Crack) and was very excited to see not one but three mentions of my friends in the magazines!
Friends band - The Shake Appeal
My Best Friend Sarah's band - Let's Buy Happiness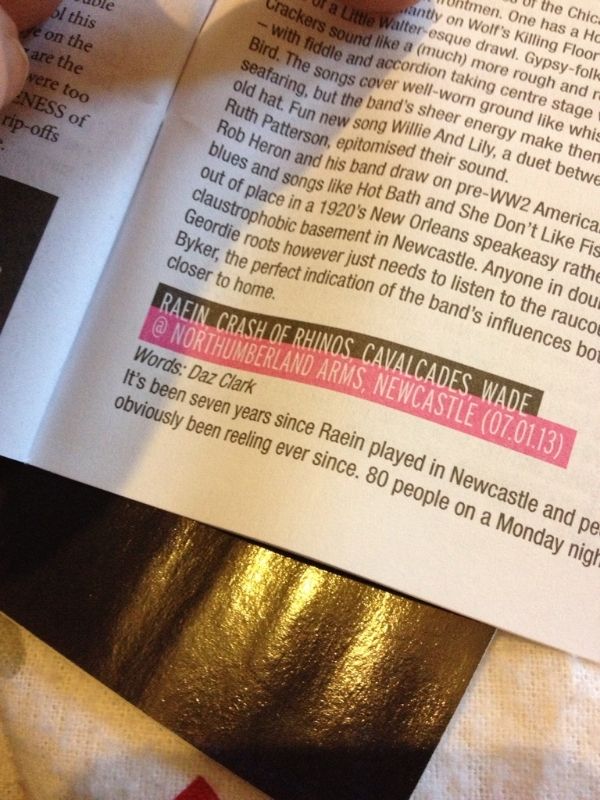 Cheeky little review from my mate Daz.
All in all had a lovely day and should probably do these sort of day's a lot more often. It's really easy to get in a rut and I think we had been stuck in one for while since moving into our new flat. I really need to get my thinking cap on and think of new and exciting ideas for weekend adventures.
Bryden x