Claire's favourites...
Products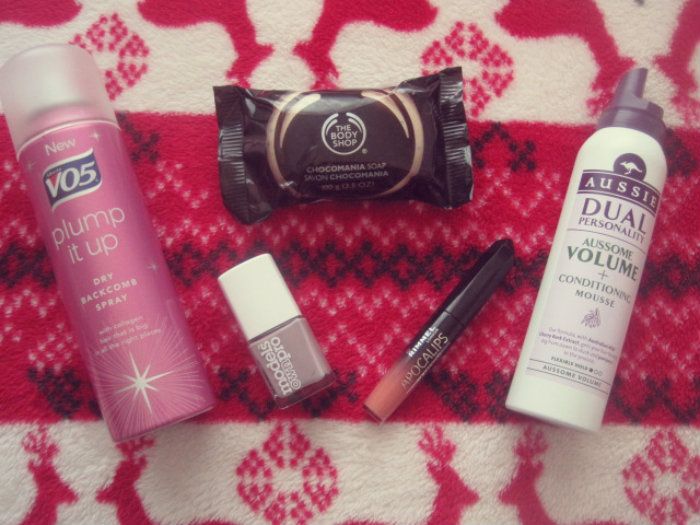 Aussie Dual Personality Aussome Volume Mousse
I picked this up as a third item as part of a 3 for 2 offer and I like it so much, I've ended up repurchasing it. Not like any other mousse I've used in the past, that has left my hair crispy and sticky, this leaves my hair soft and bouncy.
The Body Shop Chocomania Soap
Like my hatred of hair mousse has been changed this month, so has my dislike of soap. This little bar, exfoliates without drying my skin out. It's perfect for getting rid of dry winter skin and smells pretty good too.
Models Own Pro Nail Varnish- Pinky Grey
I'd been after this for a while and eventually tracked it down, only to find it had been reduced from £8 to £3.20 as it seems the range is being discontinued. It's a shame because it's a lovely colour, neutral but unusual.
Rimmel Apocalips Lip Lacquer- Luna
These have been getting a lot of hype on beauty blogs at the moment. A nice little product for a high street brand, I've definitely got my eye on other colours in the range.
VO5 Plump It Up Dry Backcombing Spray
I'm not a huge fan of dry shampoo, but this is a lot less powdery than other dry shampoo sprays out there and is brilliant at boosting my hairs volume throughout the day.
Buys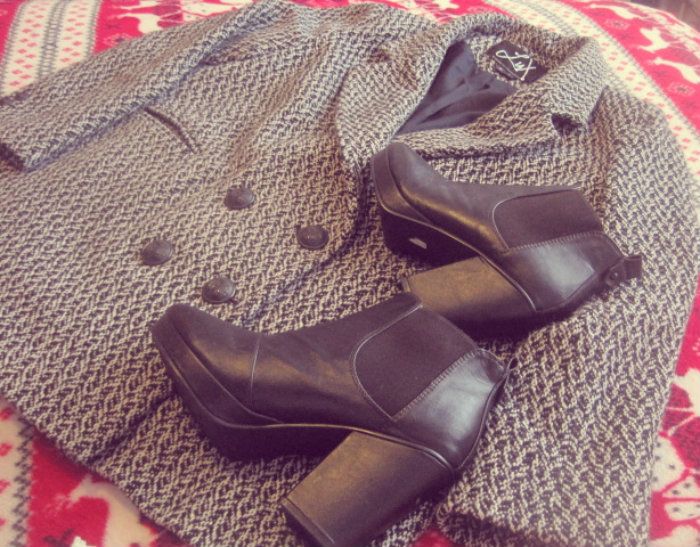 I picked both of this months favourite buys during a 'woe is me' shopping session, I'm a big advocate of retail therapy. This lovely over sized Lux coat has originally been priced at £185 in Urban Outfitters, but had been reduced to a mere £40 in the sale.With a little bit of cheeky student discount on top of that, the price went down to the bargain sum of £36! An overall saving of £149!
The boots were another absolute bargain. Like everyone and their grandma, last year, I had my eye on the Topshop Allegra boots. I spent too much time mulling over the £75 price tag and in the end missed the boat. I spotted these in a really cheap, tacky clothes shop in Newcastle the other day for £5, but they were brown. Nothing a box of shoe dye for £6 didn't solve.
Eats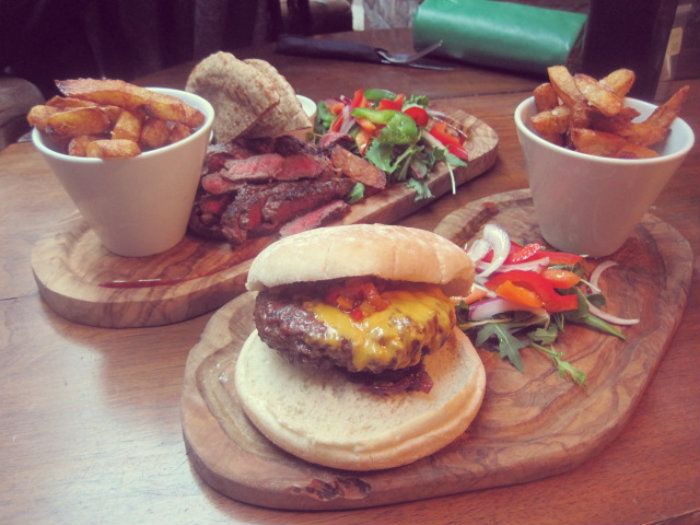 With Christmas, work and everything else, Bryden and I haven't had much time to fit in any hot dates lately to stuff our faces. We finally managed to squeeze in a rendezvous at the coastal town of Tynemouth; to browse the weekend market and try the food at Lola Jeans, which we'd heard good things about.

Lola Jeans has a laid back kind of thing going on, serving a variety of dishes (using seasonal and local ingredients) alongside cocktails and other alcoholic drinks. What we were here for however, was two of our favourite words in the English language- 'burgers' and 'platters'.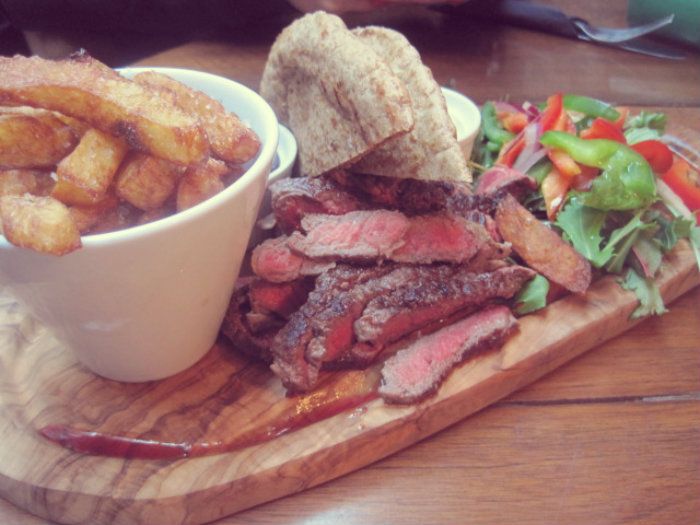 If you're a regular reader of this blog, you'll know- Bryden and I, love us a good burger. Lola Jean's Gourmet Burger with cheese and homemade chorizo salsa (served with amazing triple cooked chips) did not disappoint. As well as sharing the burger we ordered the Steak Platter which came with piles of perfectly cooked steak, salad, pitta bread, dips and chutneys and more chips. They also offer cheese, seafood, chicken and bread platters. We're ordering one of everything next time.
Other stuff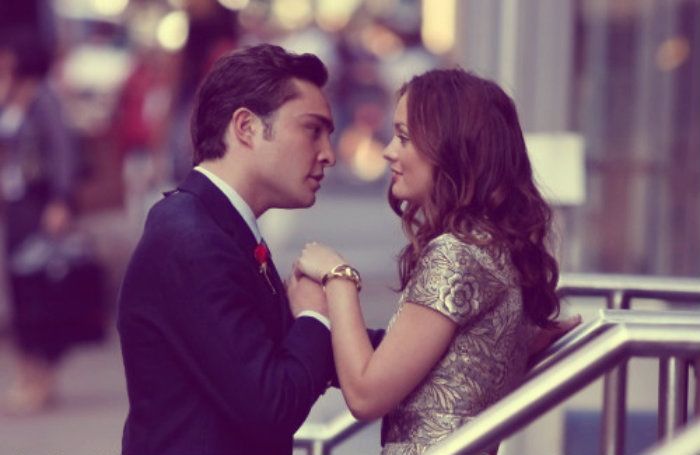 This month has been a very sad and emotional month for me, sadly the inevitable happened- I came to the final Gossip Girl episode :( I hated GG to begin with, but I soon got addicted to the overdramatic lives of Blair, Chuck, Serena et all. It's all Bryden's fault for forcing the season one box set upon me when I was ill once (I HATE U!). So, now I'm lost without a regular dose of American teen drama. Does anyone have any suggestions to fill my GG void?

Next month I'm looking forward to...

The weather hopefully improving a bit so I can start riding my poor, currently unloved bike again.
Spending a long weekend in London.
Bryden's Favourites...

Products
1. Nip + Fab Pistachio Sundae Body Butter. 2. VO5 Give Me Texture Spray.
3. Revlon Just Bitten Kissable Lip Stain in Romantic. 4. Blink + Go Long Lasting Mascara
5. Hask Argan Oil (From Primark!!)6. Stylfile By Tom Pellereau
7. No7 Define and Shimmer Pallette. 8. Urban Decay Naked Palette.
Nip + Fab Pistachio Sundae Body Butter.
This stuff smells absolutely amazing! It's a good dupe for the Laura Mercier Creme De Pistache Body Cream which I managed to pick up quite cheaply in the January sales. The Nip + Fab one smells identical and its a fraction of the price.
VO5 Give Me Texture Spray.
I've been using this to give my hair a little bit more grip when I've been backcombing. Lately I've been experimenting with beehives and this stuff has helped a lot.
Revlon Just Bitten Kissable Lip Stain in Romantic.
This is something I've worn almost every day for work. Really easy to hoy on in the morning. When it wears off it leaves a lovely stain behind which I then just put my Jason lip balm on top until the end of the day.
Blink + Go Long Lasting Mascara.
Got this in a beauty box about a year ago and just managed to open it now. It's absolutely amazing and I'll be buying more once this has gone.
Hask Argan Oil (From Primark!!)
This is an absolute bargain at £2.50. I've tried loads of different hair oils (Including Moroccan Oil and Macadamia Oil) and this is just as good. This is my second tube and I can see myself buying another after I've used this one too.
Stylfile By Tom Pellereau
The curved board on this really helps to shape nails. I've noticed you can buy mini versions of this so I think I'll be picking one up for my hand bag.
No7 Define and Shimmer Pallette.
Picked this up on ebay for around £3.00. I absolutely love the two darkest shades in this palette. The palette also offers great pigmentation which I was really surprised with!
Urban Decay Naked Palette
I'm sure this cult product doesn't really need much of an explanation. It's brilliant. If you haven't got one already you should really consider picking one up. I got this in the beauty bay 'sale' (The word sale used lightly there as it was only like £2.00 off) and I've been using this more or less everyday. I don't think I've used my liquid eyeliner at all this month.
Buys
The January sales had a lot to offer but these were my absolute favourites of what I bought. I'd had my beady eye on the Laura Mercier body care ranges for a while now since seeing them mentioned on the persian babes youtube channel and I was VERY excited to see them in the Space NK sale. I managed to pick up a tarte au citron candle, Creme De Pistache gift set and a Creme Brûlée gift set.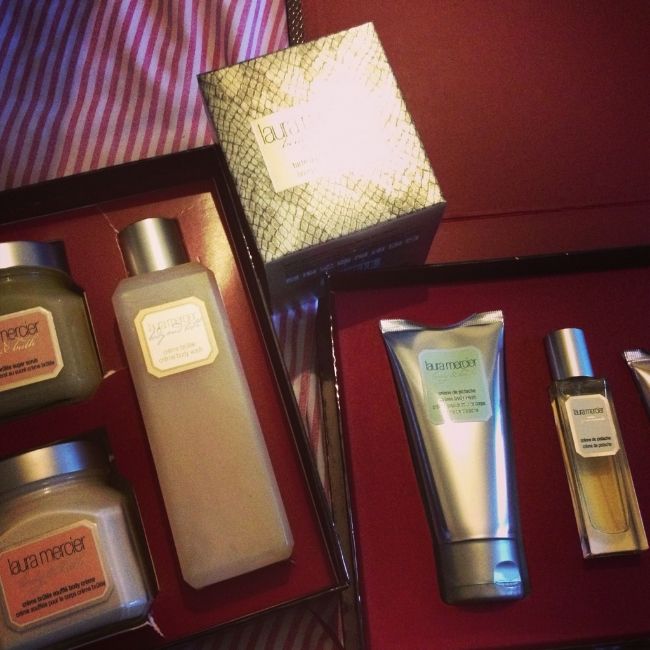 Eats
Fillet Steaks (Homemade)
Celebration steaks with my parents for Steven and I's engagement (Steven proposed on New Years Day - No Ring to show you yet though!)The fillet steaks were just from our local Morrison's and they were lovely!

BBQ Ribs (Homemade)
The meat just fell away from the bone when I went to cut it. They were soo tender!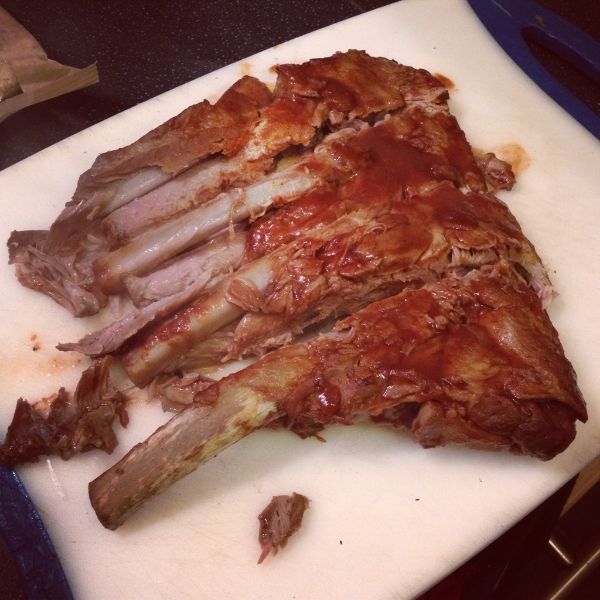 Chinese with Claire at Hei Hei, Newcastle.
This is the starter platter we had at Hei Hei for Newcastle restaurant week where we picked up a 4 course meal for only £15 per head.
Next month I'm looking forward to...
Trying out some new recipes

Having a nice meal with Steven for Valentine's day (Bleurrrgh I know!!)
Hope you like the new format of our favourites. I think the reason we haven't been able to commit to the favourite posts in the past is just simply because it was in a format that wasn't us. We're not just only fashion or make up. There's soo many other things that we love! We're both really into cooking as well so you can expect to see a lot of our own dishes on here too (If you want any recipes feel free to ask and we can post these).
Let us know what you think.