Claire's Favourites...
Products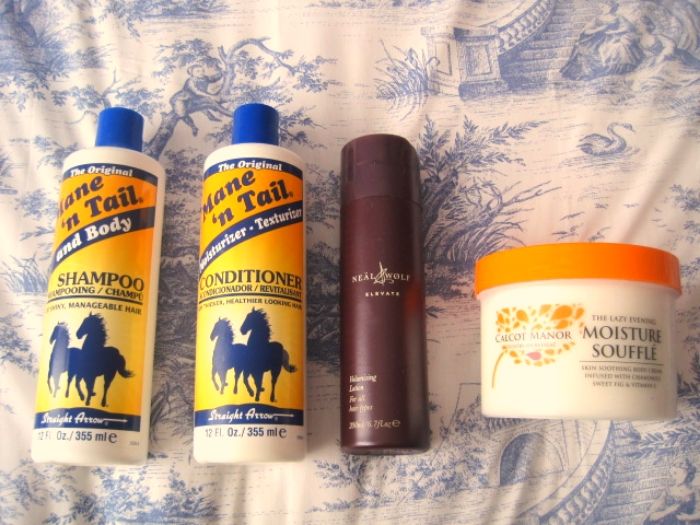 Tail & Mane Shampoo and Conditioner
Yep, your eyes do not deceive you- that is shampoo for horses. I've seen this on a couple of blogs and when I saw it in Liberty, my curiosity got the better of me. As well as being used to clean mucky equines, it's totally safe for humans to use too. The shampoo makes my hair feel squeaky clean, but make sure you always follow with the conditioner as it can be a bit drying. There are claims that it helps promote growth; although my hair has been looking more mane like lately, this might be down to the fact I need a bloody good hair cut.
Neal & Wolf Elevate Volumising Lotion
This was one of my favourite treats I received in my goody bag from the FABB blogger meet up in Leeds. I have a LOT of hair, but it tends to lie pretty flat. This is a really nice product for getting volume into your hair without making it feel like it's full of product.
Calcot Manor Moisture Souffle
This was another goody bag find from the FABB event. It's lovely and thick, with a fresh scent. I love using this after I get out of the bath, before bed.
Buys
Like everyone else in the UK, I've been patiently waiting for this horrible cold weather to get lost. The first glimmers of Spring are finally here and I can't wait to use this pastel satchel from ASOS on sunny days out.
Eats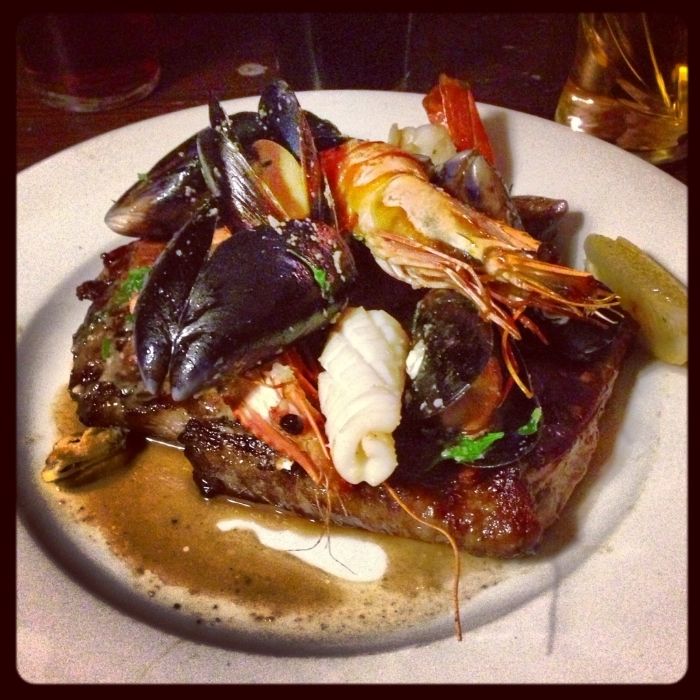 It was my dad's birthday at the end of the month; so we went to his favourite pub, The Sun Inn in Morpeth, for a meal. I opted for my usual of surf and turf, a massive sirloin steak covered with prawns and mussels in a garlic jus. My mouth is watering just thinking about this meal.
Other stuff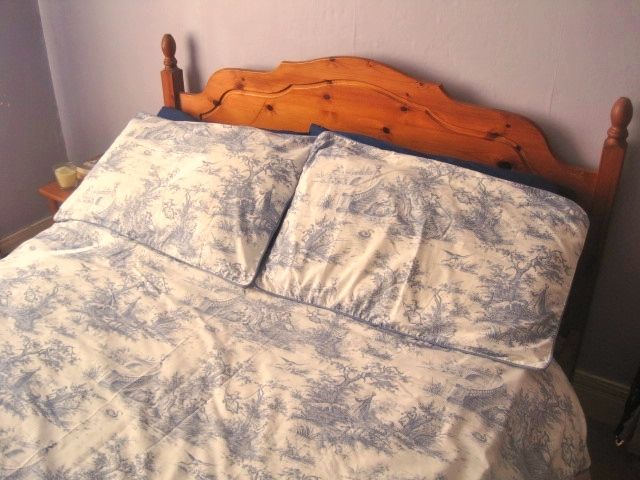 I've been after a toile de jouy duvet cover for years, but I've never found a quality one for a decent price. My mam bought me this beauty from Marks & Spencer, it's absolutely perfect. There was also a 20% discount so it ended up only costing £28! Cheers, ma!
I've been ridiculously busy this month with my new job, hence the reason this post is more than a tad late. My life has revolved around early mornings, commuting and lesson planning. I did however manage to fit in a well deserved weekend, relaxing at my parents house in Northumberland. It was so nice to spend time reading books in bed and walking on the beach. My reading material of choice was The Virgin Suicides by Jeffery Eugenides
.
Next month I'm looking forward to...
Settling into my job and enjoying the fact I don't have to work nights or weekends anymore!
Bryden's Favourites...
Products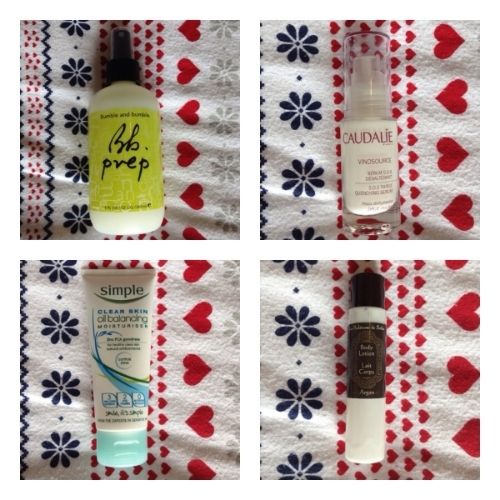 1. Bumble and Bumble Prep. 2. Caudalie Vinosource SOS Thirst Quenching Serum.
3. Simple Oil Balancing Moisturiser. 4. La Sultane de Saba Body Lotion.
Bumble and Bumble Prep
I picked this up last month in boots and I've been really enjoying refreshing my fringe with it. If I leave my hair for too long before I blow dry I seem to end up with bits of fringe sticking out all over the place so I use this to wet it back down and blow dry it into shape. It's also good for refreshing my fringe after work if I'm due to go for a night out and I don't want to wash my whole hair. The lady at the counter in boots told me it will help distribute products evenly and you can use it to refresh your style if you don't wash every day. I wash my hair every day so this isn't something I've looked into and I'm not convinced if its helping products distribute more evenly - Surely that's up to how I actually apply them? Who knows...
Caudalie Vinosource SOS Thirst Quenching Serum.
I had a sample of this in a beauty box quite a while ago and it's taken me a while to get round to buying it but I love it! I have oily skin and this is great under my oil controlling moisturisers. I have oily yet dehydrated skin and this has helped loads. My skin has been looking a lot more healthier.
Simple Oil Balancing Moisturiser.
I used to swear by La Roche-Posay Effaclar Mat and have repurchased it many times (I still love it!) but I wanted to try something new and to see if a cheaper product could do the same job. It was a toss up against a new garnier one and the simple one on the grounds that it contained two oil fighting ingredients - zinc and cornstarch. This stuff is great and I dare say its on par with the more expensive brands I've tried in the past. I've been using this during the week for work and using the more expensive La Roche-Posay one for nights out.
La Sultane de Saba Body Lotion.
I got this in a beauty box last month and I've finished it already. I'm planning to buy a full size once I've finished my Soap and Glory body butter. This is a lightweight lotion with Argan oil. It doesn't leave any sticky or greasy feeling either so I dare say you could use this on your hands too. It's great for mornings when you want to apply a lotion and dress almost immediately afterwards. It made my skin feel like satin and the feeling lasted.
Buys
I've been looking for a good pair of vintage loafers for a while now. I normally don't like buying vintage on Ebay as I can normally find some good buys in my local charity shop. But, when I saw these I had to buy them! I love Bally - My Auntie Jean gave me a gorgeous pair of brown leather Bally boots a good few years ago and I was smitten with the brand ever since. I won these loafers on Ebay for £15 which is quite reasonable.
Eats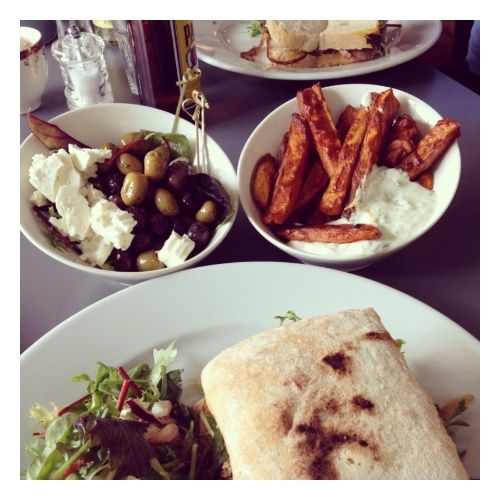 I went to Ernest (Newcastle Ouseburn) again! I opted for the Cumberland Sausage sarnie which was loaded with caramelised onions and cheese. The other half opted for a roast beef and horseradish sandwich - something I wouldn't usually go for but I had a taste and it was lovely! We also pigged out on some extra sides of olives and feta and sweet potato chips and tzatziki. I love tzatziki and I have to admit as lovely as it was it wasn't quite minty enough for me. I like it strong!
I've been loving going to Kingdom buffet (Newcastle city centre) at the moment and I've been piling my plate high with sushi and not much else. The dessert selection is also pretty exciting. My favourite has to be the green grape jelly and the egg tarts.
Other Stuff
Being on Deal or No Deal... Not really! Imagine my surprise when my friend texted me to tell me to turn the TV on to take a look at my doppelgänger. I can't get over how much she looks like me!
Next month I'm looking forward to...
Pay day - It's going to be a long month...