After hearing a lot of rave reviews for the Fat Hippo in Jesmond I decided on a taking last minute trip one night after work. This was my second attempt in going as the first time we were unable to get a booking. Thankfully we were able to get a booking this time.
The Fat Hippo is a very small restaurant so book ahead or prepare for a long wait if you haven't already booked. On my first attempt at going it was 6pm and we were told we wouldn't have been able to get a table until 9pm! The place is extremely popular for it's big chunky burgers and triple cooked chips and for good reason - it's probably one of the best burgers I've had in a while.
The restaurant itself is a stones throw away from West Jesmond metro station just near Tesco. They offer a brilliant Happy Hour deal Monday - Friday 5 - 7pm which is 3 courses for £10, 2 courses for £9 or 1 course for £7. We had already decided on getting at least two courses but for an extra pound it would've been rude not to attempt a dessert!
We opted to get two starters to share. These were deep fried gherkins (my fave) and jalapeno poppers. I wasn't the greatest fan of the poppers. Expecting them to be little morsels of gooey-cheesey-spicy goodness I was somewhat disappointed when they emerged to be rather dry. It was almost like they were bulked out with mash potato or something similar. I would compare them to the texture of falafel. They were tasty - just not what I was expecting. The gherkins were lovely. Encased in an extremely crispy batter they had not lost their substance and still had a slight 'snap'. I would have liked to see these served alongside a blue cheese mayonnaise like how they are served in many of London's burger joints. Both starters came with a garlic mayonnaise.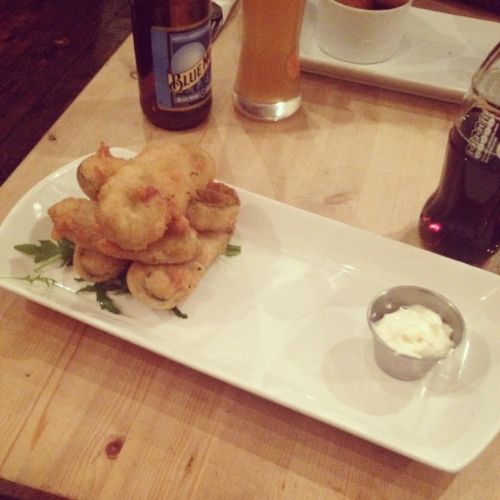 Deep fried gherkins with garlic mayonnaise
Jalapeno poppers
Cross section of the jalapeño poppers
After demolishing our starters it wasn't too long before our mains arrived. My boyfriend and I both opted for their American burger. The American consisted of a beef burger patty topped with diced gherkins, mustard, cheese and ketchup. All of the beef burgers are served in a brioche bun. In my opinion burgers always taste better in a brioche bun so I was happy to see this on the menu. The Fat Hippo also serve their burgers medium rare unless told otherwise - another win for me.
The Burgers themselves were very thick and juicy. They definitely had a homemade quality to them. The beef burgers came with a side of triple fried chips so I decided to get a couple of their dips to compliment them. I opted for buffalo mayonnaise and garlic mayonnaise. The Buffalo mayonnaise was very interesting and had the flavour of a hot sauce and a mayonnaise. Slightly spicy yet not too hot. I feel it would have also went very well with the fried gherkins.
Our burgers
Both being greedy guts we also opted for a side of onion rings which we possibly could have done without due to the sheer size of the main itself. The onion rings were gorgeous though. If these were offered as a starter I would order them. I think they must have been cooked in the same batter as the gherkins as it seemed very similar. I was happy to see that the rings were 'proper' onion rings and not like those cheap onion rings that some other places serve where the insides are like mushed up potato and onion.
Onion Rings
After the food extravaganza we still decided to share a dessert although we were fit for bursting by then (Again... Greedy guts...). There are a few desserts on the menu yet only two are included in the happy hour choices, these being ice cream or chocolate fudge cake. We obviously decided to get a chocolate fudge cake.
Chocolate Fudge Cake with Vanilla Ice Cream
I can imagine that the chocolate fudge cake MIGHT have been bought in as it was very similar to one you can buy at a very popular bulk buy warehouse. That being said this doesn't mean it was rubbish, they do a very nice chocolate cake! Next time I will skip dessert though as ice cream or chocolate fudge cake isn't usually something I would go crackers for in a restaurant anyway.
Although the Fat Hippo is popular I don't think it's popular enough. It is an amazing little gem of a restaurant!
I can't wait to go again and I think next time I will try one of their chicken burgers. I spied one from across the room and they looked brilliant.
This post has been cross posted from Bryden's personal food blog a northern life to Trebles and a Mixer as it fits in with our theme. I would like to share my experience with our readers.