Today I popped into Primark under the pretence that I was only going to buy one thing. I was looking for a hair donut as I'd overheard a customer at work telling her friend how she'd bought one from there. I already own one, but I wanted another so I can create a giant donut, which will result in the world's biggest hair bun (I know Boots sell them but I bought mine for a measly quid a few months ago and they're now charging £4.60!).
So off I went to Primark. Bad idea. Twenty minutes later, £40 less well off and still without a hair bun I emerged. Primark just have so many nice things at the moment. I needed a large bag for carrying all my various bits and bobs when me and Bryden go down to Sheffield for the Blogger meet up this weekend. I spotted this carpet bag style weekend bag for only £12, which was perfect. It even kind of matches the vintage vanity case I bought a couple of months back.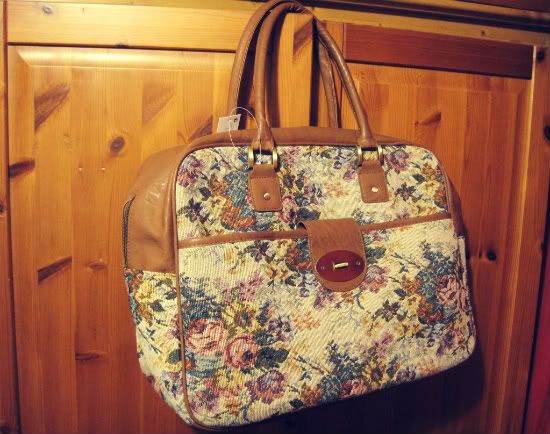 I've been after some new denim shorts for a while and at £8 with the added bonus of a belt I liked the look of these. Sadly they're a bit on the tight side at the moment (Nothing a few more weeks at Slimming World will hopefully sort out). I also picked up some over the knee socks (£2 for two pairs) and this straw boater hat (£4), which was kind of bought as part of a personal joke between me and Bryden but I'm thinking it'll be more wearable if I change the ribbon to a plain black one. The rest of my £40 spend was spent stock piling my favourite tan brogues, size sevens in Primark are like gold dust!
I got myself a couple of lip treats today too. I had a £5 voucher for No 7 at Boots, I don't think I've ever bought anything from that range before apart from some anti shine primer (which is average at best), but this lovely bright orangey/corally/reddy lipstick (Which ended up costing £5 with my voucher) caught my eye. The shade is the very camply named 'Gay Geranium' and I've had it on all day at work. It's lasted really well and I have another £5 off voucher so I might try out another shade. I also bought a Bonne Bell Lip Smacker at Primark, so I can moisturise my lips like its 1996!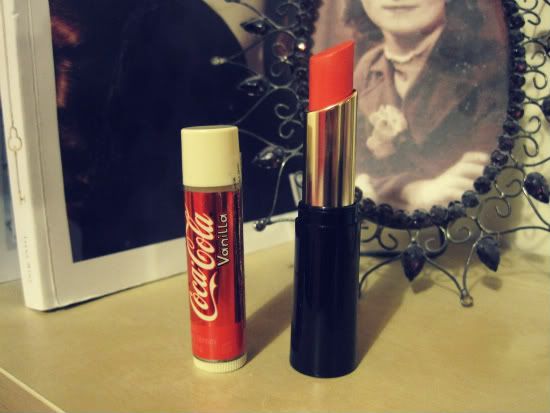 Also today, I wore my new dress from Matalan I showed you in the last post for the first time and received loads of compliments. An old lady in the street even told me she liked it and that I looked very summery! Has anyone else had any bargain buys lately?
Claire
x