Claire and I were very excited to see an invite to Brew Dog's Afternoon Tea for Punks to drop into our mail box and jumped at the chance to attend. Personally, Before this event I had no knowledge of what makes a good beer as I usually grab a vodka and diet coke when I'm out in town. Because of this it's always a bit daunting visiting the bar in Brew Dog as I have no idea what the pick. Thankfully the staff are a friendly bunch are always on hand to give tasters and advice.
Amazing wall art
Another piece of amazing wall art
We started off the evening with a tipple of Fake Lager while we waited for the night to start. I found this easy to drink and wasn't too hoppy. After our drink we were presented with a meat and cheese platter which was paired with 5am Saint and Jackhammer IPA. I'd been eyeing up these platters on previous visits so it was nice to finally try one. Our host Sarah was on hand to give us some information on the beers and which food it paired well with. My favourite of all of these beers was the 5am Saint.
Meat and Cheese Platter
Now it was time for dessert! The girls from Pet Lamb Patisserie had baked up a storm and supplied some gorgeous beer baked treats for the event which were to be paired with the beers they were inspired by. All of the desserts contained the beer they had been paired with too.
First up we had Punk IPA and Passion Fruit Cupcakes which also were paired with Punk IPA. Our host advised us that this was one of their most popular beers. Described as a fresh, full flavoured natural beer this is Brew Dog's tribute to the classic IPA's of yesterday.
Punk IPA and Passion Fruit Cupcakes
Secondly, we were given a thick slice of their Dead Pony Club Citrus Loaf which, you guessed it, was paired with Dead Pony Club. Described as a huge hoppy Californian pale ale Sarah told us that this beer was particularly popular with the ladies. Funnily enough this was always the beer I was recommendation when visiting the bar on previous visits too. This cake was Claire's pick of the bunch.
Foreground - Dead Pony Club Citrus Loaf
Last but definitely not least was the Cocoa Psycho Brownies. These were incredibly rich and fudgy. We were given this door stop sized brownie with the Cocoa Psycho Stout. The pairing was absolutely perfect. I particularly enjoyed taking a small bite of the brownie and having a sip of the Stout at the same time. It really brought out the rich chocolate taste. Cocoa Psycho is described as a 10% decadent and indulgent imperial Russian Stout and definitely isn't for the faint hearted! Sarah explained this stout is made with real chocolate and coffee and you can definitely pick up these notes. It's incredibly rich. Something I could only drink as a dessert.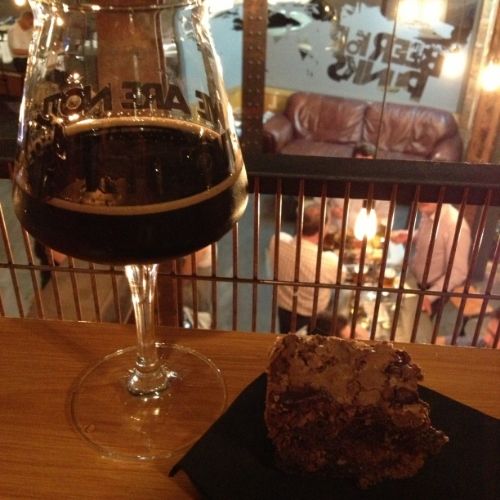 Cocoa Psycho and Cocoa Psycho Brownies (half eaten.. I couldn't contain myself...)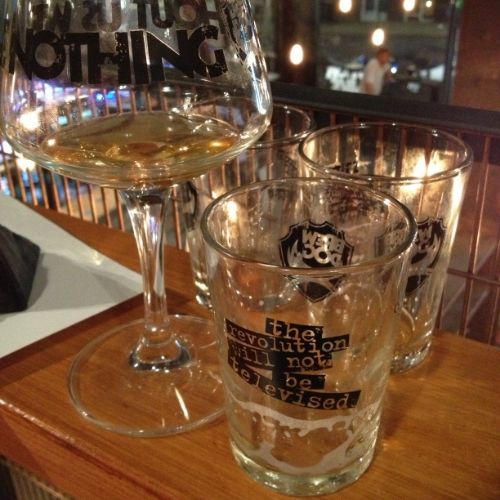 The event was brilliant and helped me work out what type of beer I liked. As previously mentioned before I had only ever been recommended Dead Pony Club in the past at the bar and took that every time. I now know that I prefer a more malty beer. My favourite of the night was 5am Saint.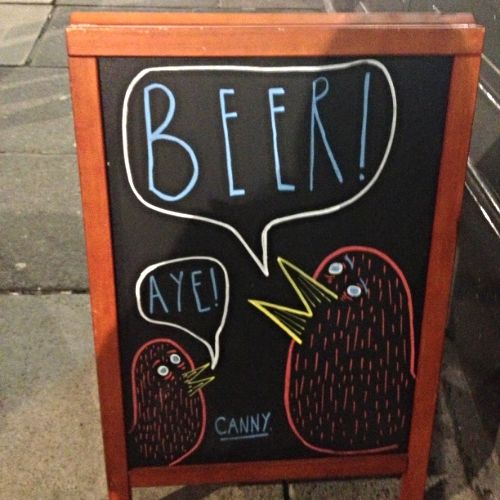 Thanks Brew Dog for an absolutely brilliant night. Big thank you to Sarah for our invitation too.
It reminded us of when we were 'punk'. Here's a picture of us and our friend Julia in t-shirts featuring bands from our youth:
How young do we look?!