I've been lusting after the Alexander Wang Kori boots for a while now. I absolutely love the cut out heel. I didn't really think about buying a pair as I knew for a fact I'd never be able to save up in time to buy a real pair especially when there are other more important things I'm currently saving up for (moving out! woo hoo!). I was browsing
Victoria VIPXO's blog
when I came across some dupes in her ebay finds posts. I was so excited and I immediately decided I had to buy a pair on my next pay day.
Looking at the ebay post the picture looked so good! And even better - They were only £28!
Link to ebay post
- Only size 4's left unfortunately.
However, when they arrived I was a little disappointed. The 'leather' was soo rigid and the chain edging was very shoddily attached and there was some really tacky, cheap silver lurex protruding from the shoe where the chain edging was attached. Not very nice at all! Unfortunately I didn't take a picture of this but I really wish I had because it was soo awful! I wasn't exactly going to send them back to china so I just decided to cut the chain and horrible lurex off!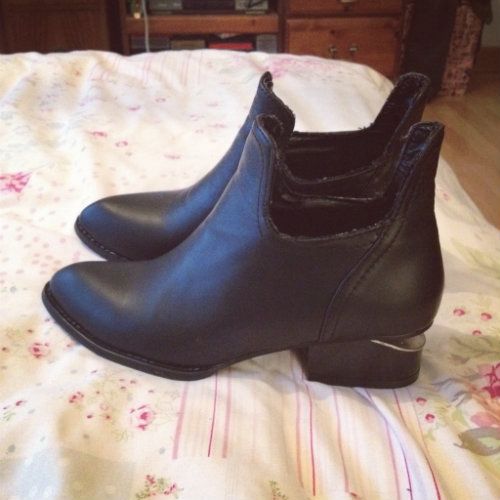 I'm soo glad I cut the horrible edging off because now I'm in love!!! A week later they had worn in really nicely and are the most comfortable shoes I own.
BUT THEN... 4 weeks later disaster struck! I was walking through the car park at work and the heel just fell off!? I couldn't believe it! This has never happened to me before and it was a little embarrassing walking home with one heel up and one heel down (I'm not sure anyone noticed though?! Haha oh well!)
The damage: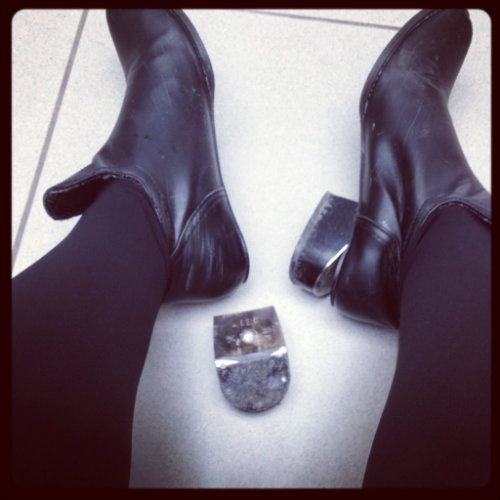 The good news is that shoe heels are easily fixed as long as you have the right tools. My dad screwed and glued them back together and I was wearing them again the very next day. I was wearing a couple of insoles inside the shoes anyway so I cant even feel the screws he's put in. They also feel a lot more sturdier!!
Even though they broke I don't regret buying these at all and I'm soo happy with my purchase. They go with everything!
Bryden x