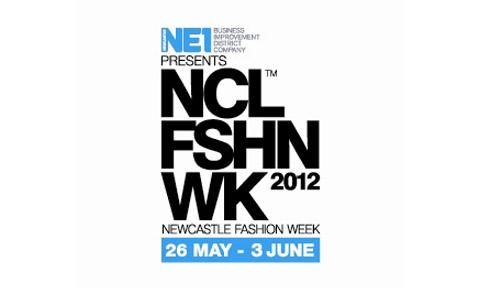 This is a post for all of our fellow Geordies and North East folk out there, Newcastle Fashion Week is almost upon us again! We're really lucky to have such an event here in our lovely little city so get yourselves along to some of the events and come say hello of you see us there! The following is a run down of the events taken from the official website which you can check out for more details.

Newcastle Fashion Week Events.
Suit Amnesty 26th May to 3rd June Suit Amnesty is a unique scheme re-gifting unwanted and outgrown suits to homeless job seekers, to help get them into work. NE1's Newcastle Fashion Week is working with The Cyrenian's and needs your help! Simply donate your unwanted suits, ties, belts, shoes and workwear accessories to any of our 12 venues during NE1's Newcastle Fashion Week. Help to style a brighter future. Venues: Life Science Centre Vermont Hotel Living Room Ward Hadaway Café 21 Price Waterhouse Coopers Eldon Square City Library Malmaison Blackfriars Sandman Hotel Northern Stage

Newcastle College Showcase Saturday 26th May 12 Noon Free NE1's Newcastle Fashion Week launches at the iconic Grey's Monument with a fabulous catwalk. We will be showcasing the very best work from Newcastle College's fashion students.

Work it Saturday 26th May 1pm Location: Grey's Monument Price: Free The catwalks continue at 1pm at Grey's Monument where we'll be showing you how to dress for success with a fantastic array of workwear from Newcastle's top retailers.

NE1's Newcastle Fashion Week & Brix Smith Start presents Barbour Sunday 27th May 12 Noon Price: Free Booking: n/a Feast your eyes on South Shields-based international fashion brand, Barbour, as it takes to the stage at Grey's Monument introduced by TV fashion star Brix Smith Start. Enjoy this amazing catwalk where you'll be able to see the highlights from the brand's Spring/Summer 2012 collection. Keep an eye out for a special guest appearance too, from Brix Smith-Start's famous four legged friends! And if it rains, you'll be able to cosy up to our male models with their Barbour umbrellas as they'll be there to shelter the audience. Here's hoping it pours! All of the Spring/Summer 2012 collection shown will be available to purchase in Fenwick.

NE1's Newcastle Fashion Week presents Liz Walker Monday 28th May 6pm Free (booking required) Join us for one of the major highlights of NE1's Newcastle Fashion Week as we invite Liz Walker to take to the lectern. The doyenne of Marie Claire magazine for over a decade, she's worked with everybody who's anybody in the industry. She's here to share all about her remarkable career and her incredible contribution to the fashion industry through the years. There's also a chance to meet and greet the fashion legend, as afterwards she'll also be signing copies of her celebrated 'Style Book'. In association with Waterstones.

Fashion Front Row Tuesday 29th May As You Like It, Jesmond From 7pm Free (£3 suggested charity donation on door) Presented by Jayne Middlemiss Now a popular staple of NE1's Newcastle Fashion Week, Fashion Front Row is a catwalk show featuring the best emerging and established fashion talent in the North East. Among the designers already signed up for the event are extraordinary milliner The Libertarian, whose bespoke pieces have featured in the national press including The Times and the Telegraph and on TV's This Morning; Pixie Lott's favourite vintage inspired jewellery and hair accessories brand, Rock n Rose and luxury lingerie from Tallulah Love as seen in Vogue. Men won't be left out of proceedings, thanks to Al's Musique Boutique which offers vintage menswear and accessories. This year, we're proud to present the headliner of our show, the incredible collection from fashion designer, Emma Bell - a regular designer showcasing at London Fashion Week.

FASHION Northumbria University Catwalk Show Wednesday 30th May 3.30pm and 6.15pm FASHION, Northumbria University's annual catwalk show is always a highlight in the North East's design calendar, and this year is shaping up to be one of the best showcases yet. Northumbria is renowned for producing the best emerging talent in the fashion industry, winning countless awards at Graduate Fashion Week in London and producing high quality graduates who go on to work at big industry brands such as Burberry, Aquascutum, MaxMara, Pringle, DAKS, Jaeger, Joseph, and River Island to name a few. This event will be returning to the fourth floor at Baltic, Centre for Contemporary Art, in what is a great chance for the University and the Baltic to come together after their recent partnership and provide the region with a fantastic cultural event. More information about the fashion show can be found at www.northumbria.ac.uk/designevents Wednesday 30th May Midnight Magpies Copthorne Hotel 8pm Strictly Invite Only VIP guests and the fashion elite will be invited to our exclusive lingerie photo-shoot in Copthorne Hotel's top executive suite. Enjoy canapés in the atrium overlooking the Tyne on arrival. As the sun sets over the Quayside, our guests will be escorted upstairs to the luxurious suite where they can watch a real live glamorous photo-shoot. We'll be showcasing NUFC's own lingerie in style. Have you got your invite?!

Fashion's Day Out @ Eldon Square Thursday 31st May From 12 Noon Free No booking required Fashion's Day Out is set to be a fashion frenzy that no fashionista would dare to miss! Eldon Square has put together a style packed schedule of catwalk shows, fashion displays and demonstrations taking place in the heart of Newcastle on Thursday 31st May. The season's key trends will be on display in a host of in store shows and mall events and better still, all items will be available to purchase right there and then from your favourite stores. Fashion shows will take place within Marks & Spencer (12pm/1pm/2pm/3pm, Dorothy Perkins (5pm) and Bonmarche (6pm-8pm) with fashion displays taking place between Boots and John Lewis at 12pm, 2pm, 4pm and 6pm. Free product demonstrations by your favourite high street stores and cosmetics brands will take place out on the malls throughout the day. Visit eldon-square.co.uk for a full schedule of catwalk shows, fashion displays and product demonstrations or get updates @ facebook.com/eldonsquareshopping and twitter.com/eldonsquareshop Your favourite fashion stores also have some great offers and prizes up for grabs during NE1's Newcastle Fashion Week so get online and bag yourself a bargain!

Frock and Roll Friday 1st June Event Northumbria From 8:30pm Tickets from £5, tickets from Northumbria Student Union Our star studded music and fashion event combining four live bands with four top brands in a catwalk spectacular. It's the only fashion and music event of its kind outside London. Don't miss our amazing live music and catwalk showcases including French Connection with Frankie and the Heartstrings DJ Set, Warehouse with Lulu James, Urban Outfitters with Mercury Prize nominees The Invisible and Reiss with Karima Francis. Presented by MTV presenter, Adam Childs.

From Byker to Burberry: A Q&A with Donna Air TBC Saturday 2nd June Northumbria Uni 3pm Free (booking required) Local legend Donna Air will be joining us for NE1's Newcastle Fashion Week and telling all about her career from Grove to Catwalk. She's modelled for Burberry, Olay and Triumph and is regularly seen on the front row of London Fashion Week. Don't miss!

Newcastle's Most Stylish Award Ceremony TBC The Living Room 4pm Free This spectacular and stylish event will see Donna Air announcing the winners for our Newcastle's Most Stylish competition. Make sure you come down and mingle with the most stylish and fashionable people in the city for this glamorous event!

Fashion TV, NE1's Newcastle Fashion Week's Official Closing Party Sunday 3rd June Tup Tup Palace Time: 9:30pm Price: £10 How to book: Contact Rachelle Jacques, VIP & Events Manager rachelle@tuptuppalace.com0191 2618 579 / 07713 242 274 Last year's inaugural event set the bar high with the Black Eyed Peas tipping up at the official launch party at Tup Tup Palace and will.i.am tweeting from the venue. This year, Fashion TV will be back and filming at Tup Tup Palace with their own exclusive catwalk show.

NFW Fringe Programme

Fashion Freaks and Film Geeks Tyneside Cinema Monday 28th May 9:15pm Ticket prices apply Pick your Flick and Pick your Outfit for this NE1's Newcastle Fashion Week and Tyneside Cinema fashion spectacular. We have 5 iconic fashion films for you to pick from including 'Clueless', 'Saturday Night Fever' and 'Grease'. Vote online on the Tyneside Cinema website for your favourite and in theme for the chosen film. Whether or not you'll go disco with 70s flares , be a Pink Lady or T-bird or opt for Vogue theatrics with our Alice in Wonderland film, we'll be giving a prize for the best dressed on the night! Visit the Tyneside Cinema website for more details (link: https://www.tynesidecinema.co.uk/whats-on/fashion-freaks)

Make and Mend Market presents…Fashion Special! Grainger Market Saturday 2nd June 9am-5pm Free entry Make and Mend market's monthly Arts & crafts market , but this one will be a Fashion special! '18 Stalls brimming with latest Retro style fashion clothing & accessories from local design labels such as : Bubblegum Vegas and Lindy's Loops plus many more.. One off event showcasing best of regional designs in the heart of town! Free entry on day. For details email: makeandmendmarket@gmail.com

Reiss Exclusive Shopping Event Reiss Thursday 31st May 6-8pm Free Reiss are excited to be a part of NE1's Newcastle Fashion Week with an amazing shopping event with 10% off and drinks on arrival

Warehouse Exclusive Shopping Event Warehouse, Blackett Street 26th May 1pm onwards Free Celebrate NE1's Newcastle Fashion Week with Warehouse's fantastic in-store event. Enjoy 20% off and a glass of Cava whilst you shop.

Get The Look Y Salon, Eldon Garden 30th May to 1st June Every morning 10-11am, every afternoon 3-4pm £10 booking fee (redeemable against product) Learn the latest catwalk looks and techniques straight from the runway, including 'How to do the messy bun', 'The New Wave' and 'The Low Pony'. Learn what products to use to create the looks and much more! Ring the salon on 0191 230 1010 or email ysalon@hotmail.com

Fashion Friday: Catwalk, Cocktails and Cupcakes Eldon Garden Friday 1st June 11:30am & 3pm Free Enjoy a fabulous catwalk in the heart of Eldon Garden. See all the latest looks, watch some inspiring hair demonstrations and enjoy cocktails and cupcakes as the models stroll down the runway. Catwalk shows at 11:30am & 3pm. 20% off selected items at Daniel Footwear, 10% off at Rohan, 10% off at North East Art Collective when you spend £200 or over, 20% off Garden Picnics at Garden Kitchen, 10% Off at Bravissimo & Pepperberry, 20% off at Richard Sinton Jewellers, Image at Richard Sinton and Twenty Five*, Spend £30 and receive a £5 gift voucher or spend £50 and receive a £10 gift voucher at Love Forever, Cupcake demonstrations at Lakeland throughout the day, A textile display by Heaton Manor School at Verb, 'Get the Look' hair demonstrations at Y Salon from 10am to 11am & 3pm to 4pm. *Eldon Garden will not be responsible for any chance in offers. Not in conjunction with any other offer.

Ladies Night of Glamour and Fashion Martha's Champagne and Fizz Bar 31st May 7pm Free Ladies, enjoy an evening of glamour and pampering at Martha's Champagne & Fizz Bar as well as catch the latest looks with their fashion show Call Jo on 0191 233 1010

From Rationing to Recession St Nicolas Cathedral 2nd June 7pm start £10 includes glass of Champagne A fashion show itself designed to encourage creativity and innovation in young people, as well as encouraging responsible consumerism, whilst at the same time providing an exciting event within the nave of the Cathedral itself. The music and visuals, for example, will be provided by an innovative recording and media project that works with disabled adults. Schools and colleges in the Diocese of Newcastle (Newcastle, North Tyneside and Northumberland) have been asked to encourage their students to submit outfits in the following categories: Vintage, encompassing all 6 decades of the Queen's reign, daywear, evening wear and bridal. All outfits must have been sourced from charity shops but can be altered and accessorised as imaginatively as the young person wishes, although accessories must either be made or sourced in the same way as the outfits. Once outfits have been selected as suitable for the show itself they will be entered into a competition for the best outfit in each category and the best in show. Hannah Bayman from BBC Newcastle will be compering the event. Studio Two sculptures have made specially commissioned prizes for each winner This event takes place during the Cathedral Flower Festival so will take place in this historic medieval church surrounded by flowers and floral works of art. The audience is encouraged to come early to enjoy their champagne whilst strolling around to enjoy the displays. Contact events@stnicnewcastle.co.uk to book

Moda Must Haves Moda in Pelle 26th May 9:30am - 6pm Free Enjoy an amazing shopping event at Moda in Pelle. They're offering all their privilege card holders (or those who sign up to privilege cards on the day) 20% off full price products. There's also a prize draw to win 'A pair of shoes and matching bag each season for a year!' Make sure you pop in to their store for this great event.

NE1's Newcastle Fashion Week at City Library
Fashioning the past 31st May 2012 6pm, City Library £3 Costume historian Gillian Stapleton reveals the secrets of her exquisite replica garments. To book phone 0191 2774100.

Tudor fashion show 2nd June 2012 6:30pm, City Library £5 Julia Soares-McCormick returns to City Library to showcase her fabulous 16th century replica costumes. To book phone 0191 2774100.

From hot pants to Adam Ant 28th May 2012 6:15pm – 7:45pm, City Library £3 Relive the 1970s in this talk and fashion show by culture historian Hilary Fawcett. Includes a fashion show of vintage garments. To book phone 0191 2774100.

That's not my hat! 26th May, 27th May, 30th May 2pm – 2:30pm, City Library FREE Children's story time. Come dressed as your favourite story character or choose from our selection of dress up clothes. Under 5s. No need to book.

Paper fashions/crowns and tiaras 26 May/2 June 2:30pm – 3:30pm, City Library FREE Craft sessions for children. Make fun clothes for Miss. and Mr. Fits, or craft gorgeous royal headgear. Ages 5-12. To book phone 0191 2774100.

Bite sized crafts 28th May – 5th June 12noon – 2pm FREE Pop in to City Library in during your lunch hour to try out a range of crafts with staff and students from Newcastle College including felting, printing and machine embroidery. No need to book.

eBay for beginners 27th May 2012 2:30pm – 4pm City Library FREE Ever wanted to use eBay to buy and sell clothes or jewellery online? This session will take you through the eBay basics to get you started. To book phone 0191 2774100.

Online shopping for beginners 29th May 2012 1:30pm – 3pm FREE Do you want to take your first steps shopping online? This session is a basic guide to buying clothes from online stores. To book phone 0191 2774100.

Bobu's customising and upcycling workshop 29th May 2012 3pm – 5pm City Library FREE Bring an item of clothing to customise or update. Transform old clothes and be inspired to see unwanted items in a new light. Embellishments and scraps provided.

Fashion's Day Out Extra @ Eldon Square Friday 1st June Fashion's Day Out Extra is an added bonus for anyone in need of an extra fashion fix! Fashion displays will take place at 12pm, 2pm, 4pm and 6pm between Boots and John Lewis featuring the season's key trends, all available from your favourite Eldon Square retailers. Free product demonstrations by your favourite high street stores and cosmetics brands will take place out on the malls throughout the day. Visit eldon-square.co.uk for a full schedule of catwalk shows, fashion displays and product demonstrations or get updates @ facebook.com/eldonsquareshopping and twitter.com/eldonsquareshop Your favourite fashion stores also have some great offers and prizes up for grabs during NE1's Newcastle Fashion Week so get online now and bag yourself a bargain!

The Runway Bride 27th May 2012 As You Like It 2pm – 5pm Free entry – first 50 guests receive free glass of bubbly on arrival Fashion Wedding show, showcasing bridal wear, bridesmaids, mother of the bride, flower girls, groomsmen, along with top wedding suppliers. Please call 0191 281 2277 to put your name on the guestlist or to book a table. Alternatively email info@asyoulikeitjesmond.com

High School Textiles 26th May – 1st June Verb Fashions Opening hours Free Verb will be giving over their main store window to textile students from local high schools in order to promote their GCSE level work. Pop in to Eldon Square to see the best examples of our local students.

Summer Swish at The Living Room Monday 28th May 6:30-9pm The Living Room, Newcastle £10 including cocktail, raffle entry and treats Chose up to 5 items of your pre loved summer clothing and accessories you feel proud to swap. Drop items off before the swish at Crisis Skylight Newcastle and receive tokens which can be redeemed for items on night. Arrive at The Living Room at 6.30pm. Swishing will start at 7pm. Have a browse around the rails and when you are finished selecting your items simply show them to a member of our team, exchange them for your tokens, and enjoy the rest of your evening with your new summer wardrobe! Any leftover items will be donated to charity and for any extra items you wish to take home a minimum donation of £4 per item is required. Donations for the swap to be brought on Wednesday the 23rd of May to… Crisis Skylight City House 1 City Road Newcastle upon Tyne NE1 2AF *Please bring all items on hangers and no bikinis or jewellery please. Crisis is the national charity for single homeless people. For all tickets and enquiries please email fundraising.newcastle@crisis.org.uk

Sk:n seminar and workshop Sk:n, Grey Street Free, please RSVP 5-8pm Get inside your own skin and understand how you can make it glow! Perhaps you have issues with excess hair, we can fix that too. Lots of options for everyone to improve how they feel and look! Call 0191 261 0011 to book your place now.

Official NE1's Newcastle Fashion Week Merchandise Limited edition T-shirts designed by Barbour Limited edition NFW necklaces by Lovebullets Last year our limited edition t-shirts, designed by international fashion designer Scott Henshall were SOLD OUT within weeks! This time, don't miss your chance to pick up our exclusive limited edition t-shirts designed by international fashion house Barbour! This time, we've collaborated with the very fashionable Lovebullets, the jewellery company popular with Dizzee Rascal, Lilly Allen, Jameela Jamil and our very own Cheryl Cole. This year they've designed a special edition Lovebullet necklace especially for NE1's Newcastle Fashion Week. There's one for boys and one for girls. Available exclusively in Fenwick. All profits raised will be donated to Cash for Kids. In-store from the 1st May until 3rd June. T-shirts on sale for £15 Necklaces on sale for £25

Newcastle's Most Stylish 1st May to 26th May Northumberland Street South 1st May to 26th May sees the return of our incredibly popular street search for the most stylish people in Newcastle. Last year's finalists won a £500 champagne shopping spree from Cruise, with a number securing modelling contracts. There are a lot more prizes this year and the winners will be announced at a major award ceremony held during NE1's Newcastle Fashion Week. This time, it's even bigger and better with four X-factor style categories; most stylish group; most stylish male and female and most stylish over-30s, all up for grabs. Find out more details and vote for your favourites via the NE1's Newcastle Fashion Week Facebook page. (link: https://www.facebook.com/nclfshnwk)

Claire & Bryden x