I love eating out, probably as much as I love cooking my own meals. A few years ago I'd eat out on a regular basis with one of my best pals- Jimmy. Sadly, Jimmy went and moved to Scotland (selfish git), leaving me an eating partner down. Jimmy came home for his birthday this weekend, so it was only natural that we should celebrate his birth by stuffing our little faces.
The choice of where we should eat was left up to me, with only one stipulation- it had to be somewhere we hadn't eaten before. I'd read good things about The Broad Chare over on Newcastle Eats and I thought it would be right up our street.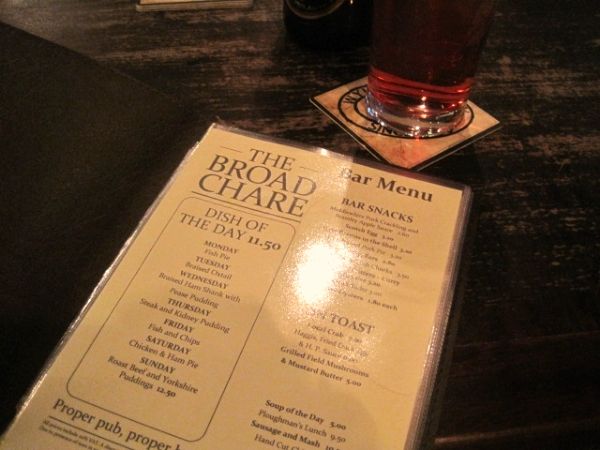 The Broad Chare has a small bar area downstairs serving a large variety of ales and other alcoholic beverages; which has traditional pub features, but with a modern feel. Upstairs there's a dining area, but we were more interested in having a pint and sharing some treats from the bar snacks menu.
We decided to pick a selection of small dishes to share, opting for- The ground rib steak slider, deep fried monkfish cheeks, Scotch egg, crispy pigs ears and a portion of hand cut chips (sadly they were all out of the hand raised pork pies). We were both really happy with our choices, every dish was fresh and packed with flavour. I always think I hate scotch eggs, but it's just poor quality ones I hate and these were a million miles away from the gross, cheap eggs I dislike so much. The steak slider was delicious and has made me want to go back to try the full size version in the upstairs dining room.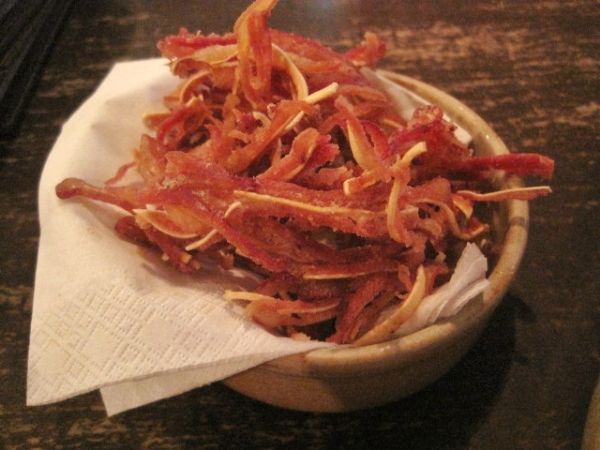 My only complaint is that I wish there had been some sort of dip on offer to accompany the crispy pigs ears; which although delicious, were just lacking a little something. Oh and they serve good chips, I will always judge a place on the quality of their chips.