Claire's favourites..
Products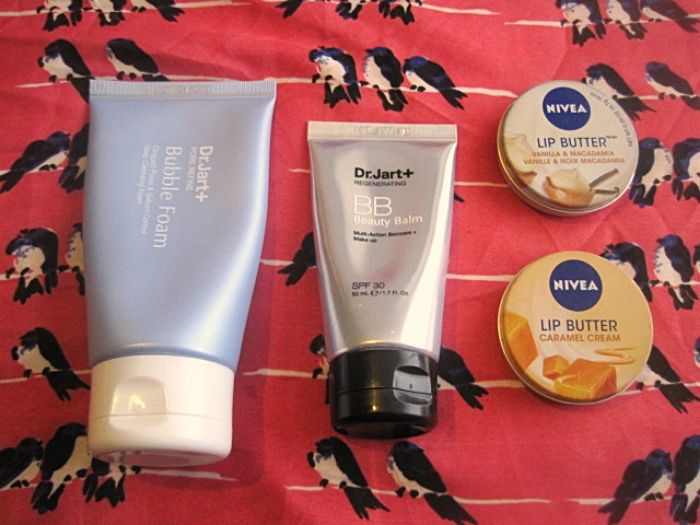 1. Nivea Lip Butter
I am a lip balm addict. No, really; it's an actual thing- look. It's like crack to me, if I don't have a pot of hand I will literally freak out. Hence the reason I have about 59837839 pots and sticks of the stuff lying around, filling draws and bags. My usual choice of poison is Carmex, has been for years, but I've recently been swayed by these. They smell delicious and moisturise better than lip balms I've paid 5 or 6 times the price for.
2. Dr Jart Regenerating Beauty Balm
Back in my acne prone days, the thought of being able to use a product like this was a million miles away. Now my skin has improved I love using products like this, which allow my skin to breathe instead of piling on the foundation. Luckily this is a good colour match for me and I don't feel like I'm even wearing make up when I have it on.
3. Dr Jart Bubble Foam Cleanser
I picked this up when I bought the BB cream as I'd ran out of my usual Clarins cleanser. I've been using this with my No 7 cleansing brush and I've really noticed the difference in my clogged pores on my cheeks. It leaves my skin feeling squeeky clean, but be careful around your eye area- it hurts like a bitch!
Buys

I haven't bought a great deal this month, I spent all of my money on burgers and cocktails in London, so I struggled to find anything for my favourite buys of the month. I did however purchase this skirt from Primark for £10 and despite not having worn it yet, I'd say it's my buy of the month because it makes me dream of summer days. I can't wait to wear this with tanned legs (fake of course, I do live in England after all) and tan leather accessories in the sunshine.
Eats
Meat Liquor wins hands down. Read about it here.
Other stuff
I'm probably a bit late to the party on this one, but I love Frank Ocean. Listen to Thinkin About You or Sweet Life.
Next month I'm looking forward to...
Settling into my new job and hopefully earning a little more money (to buy more lipsticks, obvz)

The weather possibly improving (probably not though. I h8 u, England)
Bryden's favourites...
Products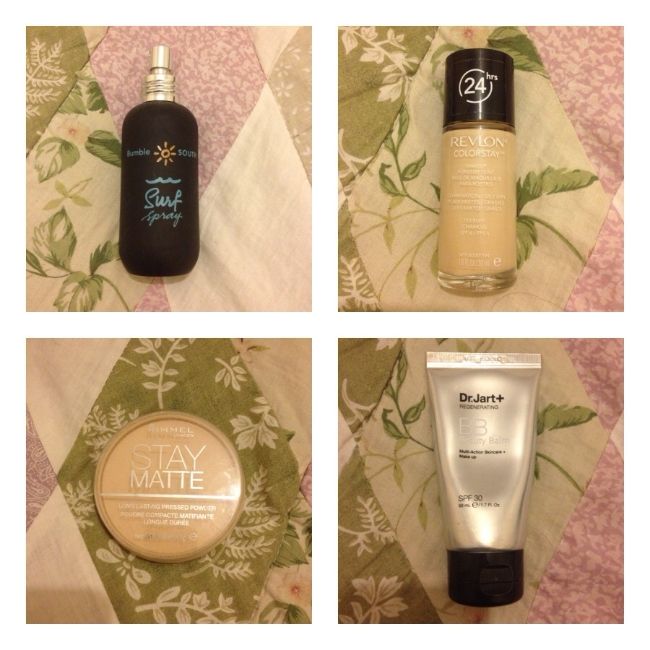 1. Bumble and Bumble Surf Spray 2. Revlon Colourstay Foundation
3. Rimmel Stay Matte Powder 4. Dr Jart+ Regenerating BB cream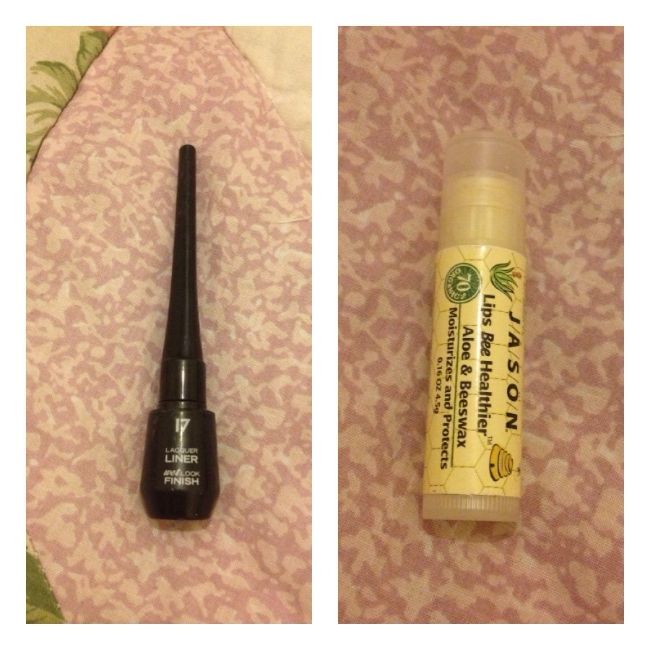 5. 17 Laquer Liner 6. J/A/S/O/N Lips Bee Healthier Lip Balm
1. Bumble and Bumble Surf Spray
I bought this quite a while ago after feeling forced to by a very pushy employee at Space NK (It was all a bit of a nightmare really... She saturated my hair in the Oribe texturising spray and made me leave the shop and come back to make sure I wanted to buy the Bumble and Bumble one as she thought the Oribe one was better (and more expensive). She shot herself in the foot really because she covered my hair in the Oribe stuff soo much I looked greasy so I promptly marched back for the Bumble and Bumble one!). I don't tend to use it for a 'beachy look' as it's not my thing but I do use this when I curl my hair. I use this before I dry my hair (a little goes a long way!) and I've found this stuff is amazing in keeping my curls in all day.
2. Revlon Colourstay Foundation
I've used this time and time again. I use a very small amount of this for nights out when I want a longer lasting foundation. I don't find it cakey as I only use a small amount.
3. Rimmel Stay Matte Powder
For a long while I had decided I liked the Chanel pressed powder but looking back I think the real reason was that I just liked the packaging and getting it out of my bag for touch ups! It wasn't very good at all and was becoming a costly habit. I went back to an old favourite which I used to use years ago and I'm cringing at the amount of money I wasted on the Chanel pressed powder - this is soo much better.
4. Dr Jart Regenerating BB cream
SNAPS! I think Claire's covered most of this. I love wearing this for work. I work in an office so I don't like to wear too much make up (it just seems to melt off anyway!). This is perfect.
5. 17 Lacquer Liner
I love my liquid eyeliner and picked this up on a whim in boots. I don't usually go for liners with brushes but this one is great. The brush is really sturdy and gives a lot of control. You can also make very thin lines with this which I love.
6. J/A/S/O/N Lips Bee Healthier Lip Balm
I got this in some sort of beauty box. I had heard of the brand before after looking into natural products back when I was vegetarian. The balm itself is quite thick and doesn't migrate off the lips like other lip balms (S
queezy tube Carmex I'm looking at you!. Moisturises while leaving a minty fresh taste/smell.
Buys
I picked up this Jane Shilton bag from Tk Max when Claire and I attended the opening of their new premises in Newcastle. I'm a terrible impulse buyer but this has to be one of my best impulse buys to date! I have used it every day since I got this.
I always tend to use large tote bags for work and a smaller satchel type bag for weekends and nights out. This is right in the middle and suits work, weekends and nights out - It's just absolutely perfect.
There's also an exterior zipped pocket on the other side where I can store my mobile phone and bus pass for easy access which is awesome - I hate having to rummage around in my bag for these.
Eats
My Mam and I visited Ernest for lunch which is situated behind the Biscuit Factory in Newcastle. They offer a great little menu which includes breakfasts, lunches and daily specials. I opted for the chorizo hash bowl from the breakfast menu and my Mam opted for the spiced lamb flatbread from the lunch menu (this was their half portion!). I can't wait to visit again and I have to admit I'll definitely have to order the hash bowl at least another 2 or 3 times before I venture onto something different from the menu (it's THAT good!).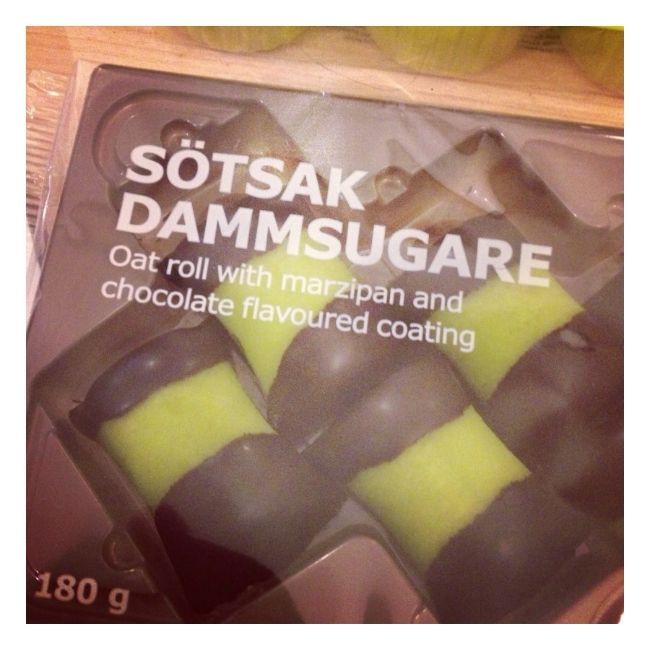 Apparently these little treats from Ikea translate to 'vacuum cleaners'!? - apparently they look like them (I'm not too sure...). I wasn't sure whether to buy these at first as I HATE marzipan but after trying a sample I had to buy a whole package. They kind of taste like rum truffles. I think these are a Swedish easter thing so I'll be sure to stock up on a couple more packages before they stop stocking them.
Other stuff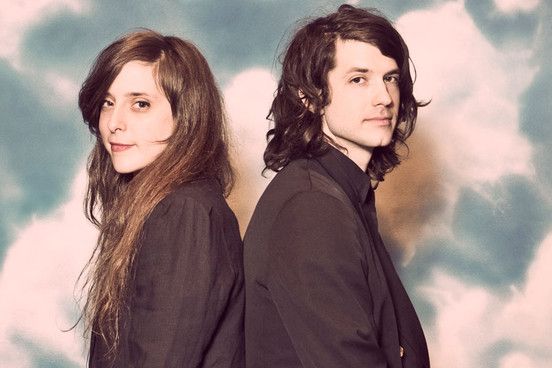 \
Beach House - I've been listening to these a lot lately. Absolutely beautiful music. As soon as I heard Myth I was hooked.
Next month I'm looking forward to...
I'm with Claire with this one and I'm hoping for the weather to pick up next month. I'm absolutely sick to death of wearing my old scruffy shoes because I don't want my good shoes to get ruined from the salt.

Easter! I'm still on the hunt for the egg and spoon eggs but I'm always greeted by empty boxes. Humph.