My dad makes some cracking meatballs. He usually makes these for tapas night's but they also go great with pasta or rice.
Here's my dads recipe for meatballs:
Ingredients
For the meatballs:
650g lean minced pork

2 pinches of each - fresh rosemary, thyme, mint, basil, coriander and oregano (I use dried and sometimes even use a bit of mint sauce if I don't have fresh or dry. Whatever you do - DON'T miss out the mint. It makes the meatball)

1 egg

1/2 medium onion, finely chopped or grated

2 garlic cloves, crushed

1/2 fresh chilli (or a sprinkle of dried)

300g fresh breadcrumbs (I toast my bread and whack it in the food processor)

Salt and Pepper
Olive oil (for frying so whatever you like to use)

1/2 medium onion

1 medium carrot, peeled and finely chopped

1 stick celery, finely diced

Salt and Pepper

70ml Port (Sometimes we use sherry or 'british wine' too and it works ok. Port is the best though)

250ml red wine

3 x 400g tined chopped plum tomatoes

10 fresh basil leaves (Or a sprinkle of dried basil if you don't have any. Fresh is nice in this sauce though)

2 bay leaves
1. Combine all the meatball ingredients - form into balls and chill.
2. While the meatballs are chilling fry the onion, carrot, celery in a little oil or whatever you're using until soft.
3. Add the port, wine, salt and pepper, tins of tomatoes and bay leaves and simmer for about 5 - 6 mins. The mixture will thicken slightly while we are frying off the meatballs in the next step.
4. In another pan briefly fry off the meatballs until sealed (about 3-4 mins).
5. Add the meatballs to the sauce. Simmer in the sauce for about 25 mins. If the sauce gets too thick add some water (if the sauce isn't thickening at the speed you want, take the meatballs out for a bit and add back in once its thickened a little). The meatballs will poach in the sauce and will be very juicy and tender once cooked.
6. Add the fresh basil into the sauce when there is about 5 mins of cooking time left.
7. Cook your pasta/rice/potatoes or prepare your side salad while the meatballs are cooking. This time I made rigatoni and topped with some Grana Padano.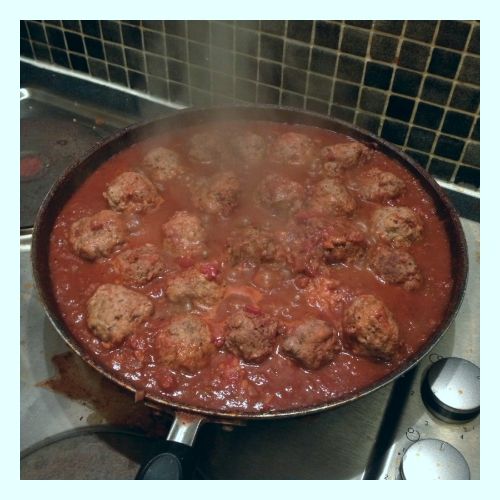 Ho
pe you like!
Bryden x