You might have seen from my London post or Instagram, last weekend I achieved one of my life goals and stuffed a ridiculous amount of food into my face at Meat Liquor in London. I'm not going to lie, it was everything I had hoped and dreamt of!
We hopped off the bus on Oxford street and made the short journey to Meat Liquor's ----- Street location, only yo find by 10pm there was still a queue a mile long. I don't think I've ever queued so long to get into a restaurant in Newcastle (with the exception of Nandos!) but after being teased by a girl handing out a tray of deep fried pickles (more on these bad lads later) I was ready to queue for days to get in.
Once we made in through the mysterious blacked out entrance we were sent to the bar to stock up on cocktails until a table became available. The cocktails were delicious and made waiting all the more enjoyable. Inside, Meat Liquor is a bit like being in a club.It's pretty dark (hence the horrible flash in my photos) and the music is loud, but i liked it that way. It's a bit like having your night out all rolled into one place.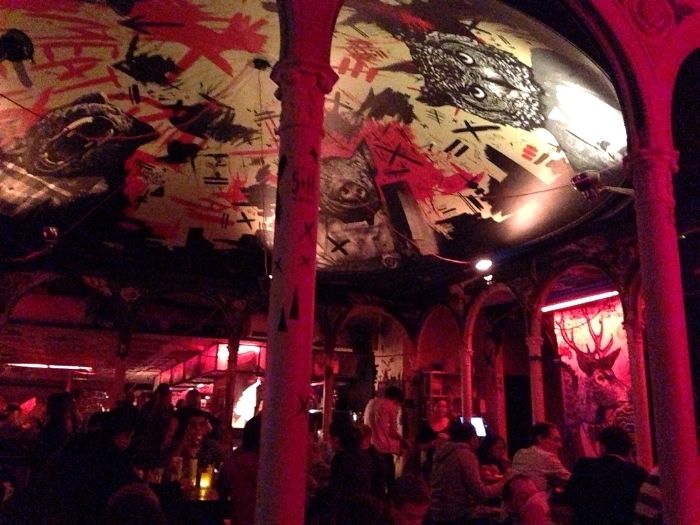 Helpfully there's menus to browse while you wait, because you need that time to help you choose from all of the delicious sounding items on the menu. As you may have guessed by now I'm a huge fan of the humble cheese burger,but I made the controversial choice of opting for the Buffalo burger and I'm so glad I did! It was a delicious juicy chicken breast, deep fried, dipped in hot sauce and then smothered in the most amazing blue cheese sauce. My friend proclaimed it was the best burger she'd ever had, it was that good.
Obviously I didn't stop there, not when there was a range of sides on offer. To accompany my beast of a burger I chose Phili cheese fries (a meal in themselves) and we spilt a couple of orders of onions rings (as big as my face) and deep fried pickles. I think deep fried pickles are my new one true love, especially when dipped in blue cheese sauce. The food was delicious and I continued to eat way after the point of feeling ill! All of your tables food comes piled on a huge tray and you just have to get stuck in. There's no plates or cutlery. You need to throw all of your tables manners out of the window and get stuck in (maybe not the best place for a first date, unless you don't mind your beau seeing you wipe hot sauce from your chin with kitchen towel).
We ended our evening with a round of cocktail named Grog; which is apparently so alcoholic, there's a 2 per person limit (that would never happen in Newcastle!). I would highly recommend this fruity rum punch, but I warn you- it will get you drunk.
I've been drooling whilst typing this post, which i think sums up how I felt about my Meat Liquor experience. So, if you're in London- brave the queues and go and have some deep fried pickles for me.
Claire
x