I'm sure you've all heard of Seasonal Affective Disorder? Y 'know; that miserable,glum feeling during the dark winter months? Yeah, well I'm suffering from the make up equivalent. I'm sick of smokey eyes, I'm over dark nails, I'm done with berry and gothic lip shades. Don't even get me started on glitter.
But with outside still currently resembling the North Pole in the UK, can I really bust out the pastels and bright Summer shades already? Sadly, probably not. Instead I popped to my local Boots to give my make up bag a bit of a post Christmas, glitter comedown lift.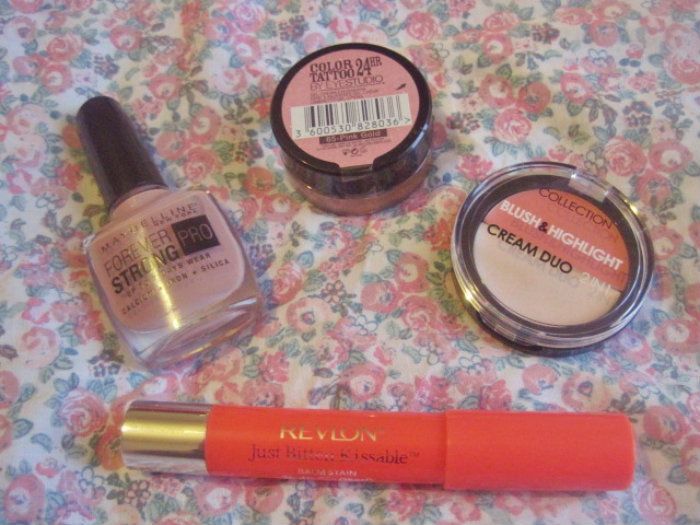 Maybelline Tattoo 24 hour Eyeshadow- Pink gold
I already own and love this eyeshadow in a bronze shade, so this pink gold colour was perfect for lightening my eye make up.
Revlon Just Bitten Kissable Balm Stain- Rendezvous
I bought the felt tip lip pen version of these balm pens awhile back and hated it. This is completely different, the colour is long lasting and the balm keeps lips nicely moisturised.
Maybelline Forever Strong Pro Varnish- Rose Poudre
A nice neutral shade to contrast all the dark polishes and glitters I've been wearing over the Winter months.
Collection Blush & Highlight Cream Duo- Peaches and Cream
I didn't have great expectations for this cheap duo, but I'm pleasantly surprised. Not as good as my beloved Topshop cream blushers, but it's handy to have a blush and highlighter in one small package.
I've been using these products for a couple of weeks now and they've really helped brighten up my make up while I wait for the the sunnier months to come along. Are there any products you'd suggest trying to shake up my boring make up routine?
Claire
x